Panel Session:
BUILDING A DIGITALLY COMPETENT SOCIETY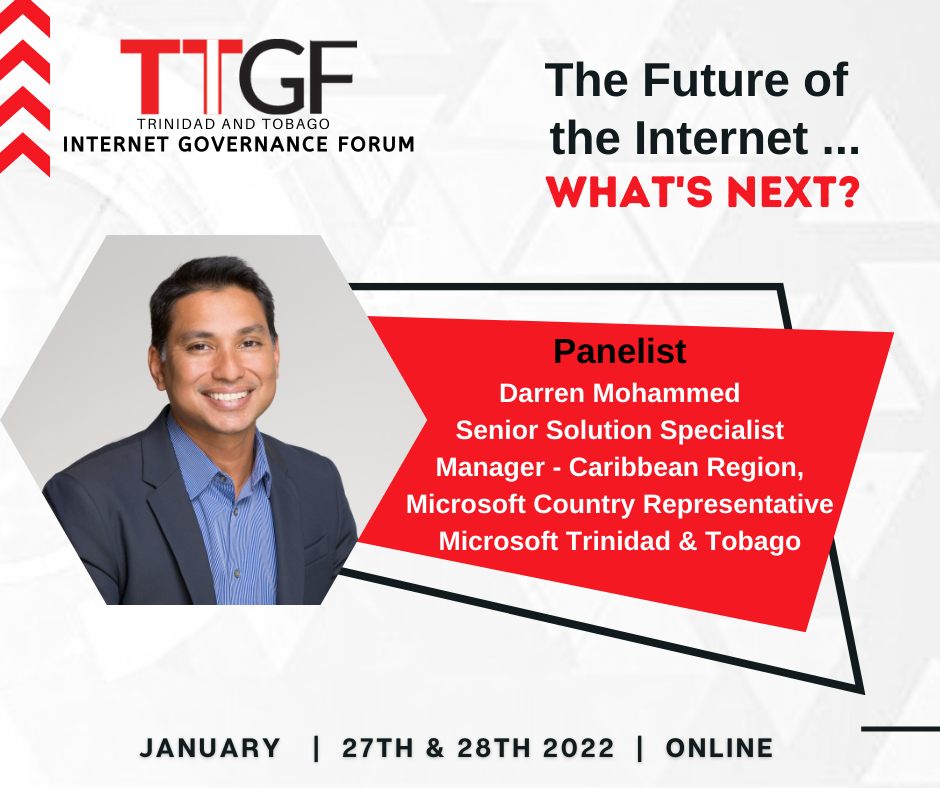 Darren Mohammed is a Senior Manager at Microsoft responsible for the Corporate & Government business across 33 countries, mainly within the Caribbean. Darren is also the Country Representative for Microsoft in Trinidad and Tobago.
As more organizations and governments turn to technology to better Engage and Empower people, Optimize Operations and Transform Products & Services, Darren continues to build partnerships throughout the region with entities that are agents for that transformation.
Darren has a background in Computer Engineering and has been working in the ICT industry for over 26 years. During that time, the most notable tenures have been 14 years at Microsoft where he has been recognized with several excellence awards, 6 years of entrepreneurial experience, having built a successful technology startup prior to joining Microsoft and 5 years working for a multi-national Oil & Gas company as a technologist building and supporting upstream apps. He uses that wealth of experience to assist in the development of an ecosystem of technology service companies across this complex geography, with the goal of that ecosystem contributing to the regional GDP.
Darren also serves as Independent Director on the board of JMMB Bank and JMMB Express Finance in Trinidad & Tobago and on the regional JMMB Group IS Committee.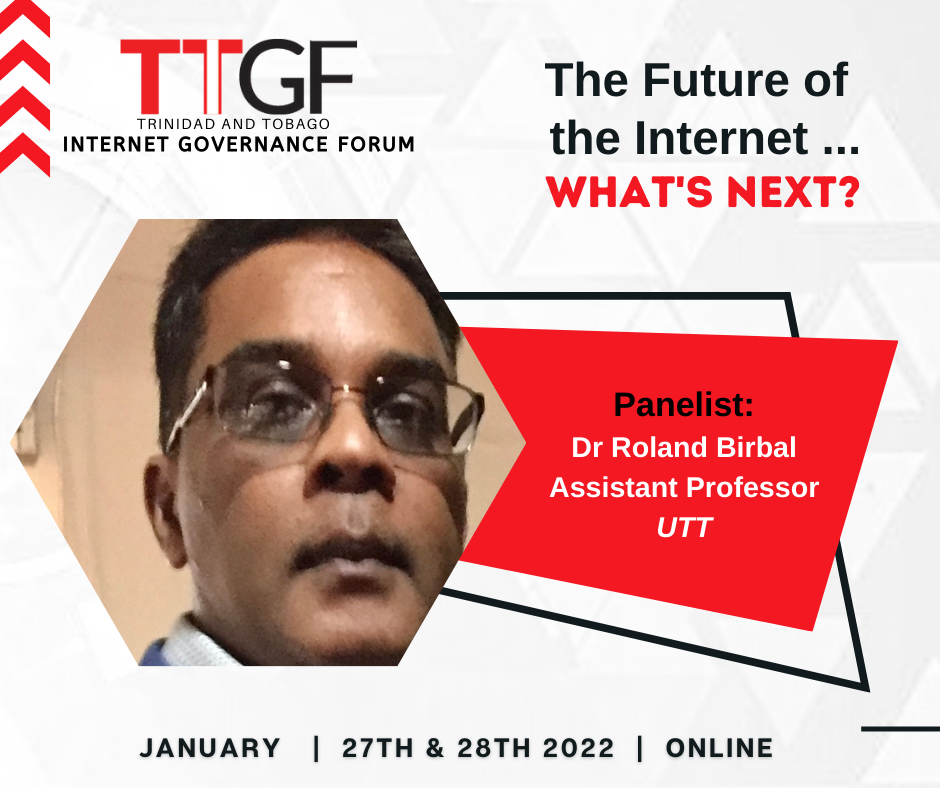 Dr. Birbal currently holds a Doctorate and Masters degree in Educational Technology from the University of Sheffield, a Post Graduate Diploma in Educational technology (Dist.) (UWI), a Post Graduate Diploma in the Teaching of Mathematics (UWI), a Bachelor of Science in Computer Science/Mathematics (UWI) and a Certificate in Technology Integration from the Thompson River University Canada.
He has been a Teacher/Lecturer for the past 35 years. He spent 20 Years teaching at a tertiary level and 15 years teaching at a secondary school. He currently teaches Educational Technology, Instructional Design, Learning Management Systems, Web Design and Development and several other courses such as Research methods, Practicum and Classroom Support Technologies at the University of Trinidad and Tobago.
His main areas of research are directed at blended and online learning and he has written several Journal Articles and book chapters. He is the Co-Author of several ICT Secondary school books. These titles include, "Log on to IT for CSEC", "Log on to IT", "Interact with IT books 1 – 3", "ICT for Senior High School", "Information Technology for CXC" and "Longman ICT for IGCSE" and he is currently working as a Series Editor and author for Cambridge Primary Computing Series Stages 1 to 6.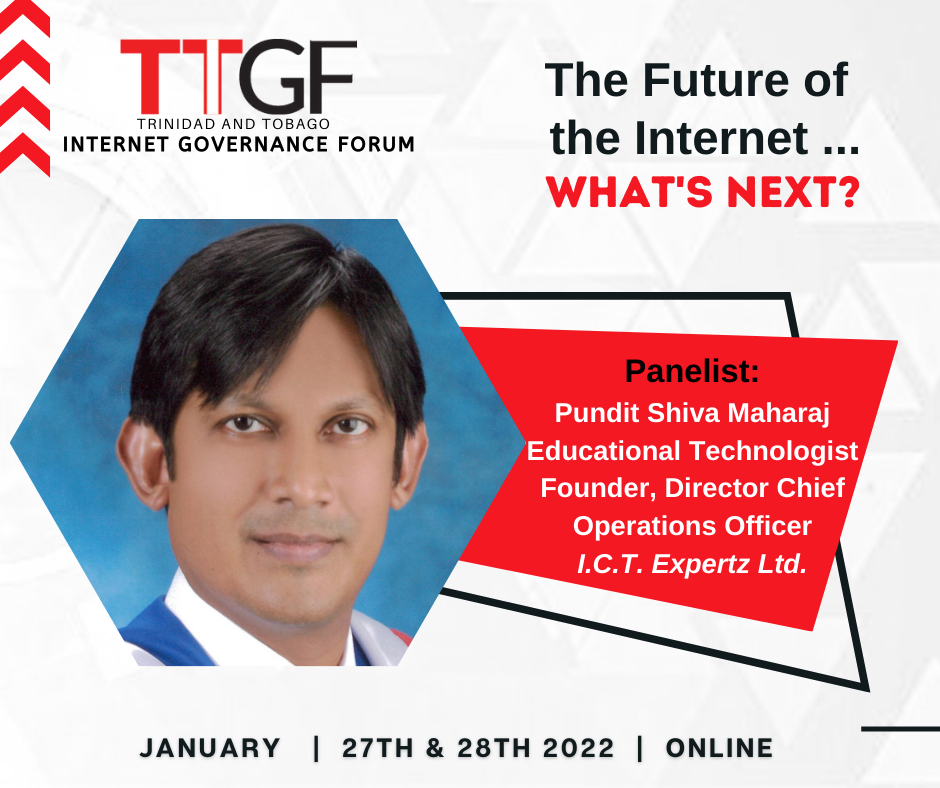 Pt. Shiva J. Maharaj, also known as the 'Digital Guru' is a local pioneer in Educational Technology, Digital Literacy and Digital Citizenship.
He was recognized in a two page Ministry of Education publication, for over two decades of influencing and shaping Educational Technology integration in Primary and Secondary schools throughout Trinidad and Tobago. His latest innovation, in response to the COVID-19 pandemic is the Digital Guru Class-Tab PC, which is an affordable, optimized out of the box complete online education system for students, especially those living in rural areas.
Pt. Maharaj graduated as part of the first cohort with a Masters of Arts in Leadership in Technical Vocational Education and Training and Workforce Development from The University of the West Indies after having attained a Bachelors of Education degree from the University of Trinidad and Tobago. He has also accumulated numerous International Industry-based qualifications and certifications in Telecommunications, Information Technology, Computer Studies, from global institutes such as, NCC Education, Computer Technology Industry Association (CompTIA) and Tata Infotech (India). With schools switching to online education due to Covid-19, Pt. Maharaj has recently added to his certifications Google Certified Educator and soon to be a Google Certified Trainer and Coach.
He continues to share and disseminate his knowledge to students as young as 5 years of age, that attend his annual boot camps, which celebrated 10 years in 2021, to adult learners that he instructs as an Instructor for the Masters of Education in Educational Technology programme at the University of Trinidad and Tobago. On his website, www.DigitalGuru.Tips has been advocating for twenty first century competencies such as Mobile Literacy, Digital Citizenship and End-user Cybersecurity competencies through certifications and partnerships with leading institutes; the University of Washington, Common Sense Education and Harvard Graduate School of Education and Logical Operations, respectively.
On a global scale Trinidad and Tobago is represented by Pt. Maharaj and his company, I.C.T. Expertz Limited, as the Head of the Trinidad and Tobago Safer Internet Day Committee, and Champions for National Cyber Security Awareness Month and Data Privacy Day.
He has presented papers and presentations at a number of international conferences on topics related to the Digitalization of Education, Culture and Society, hosted by institutes such as The University of the West Indies, The University of Trinidad and Tobago, National Ramleela Council, National Council of Indian Culture, University of Southern Caribbean and the Ministry of National Security.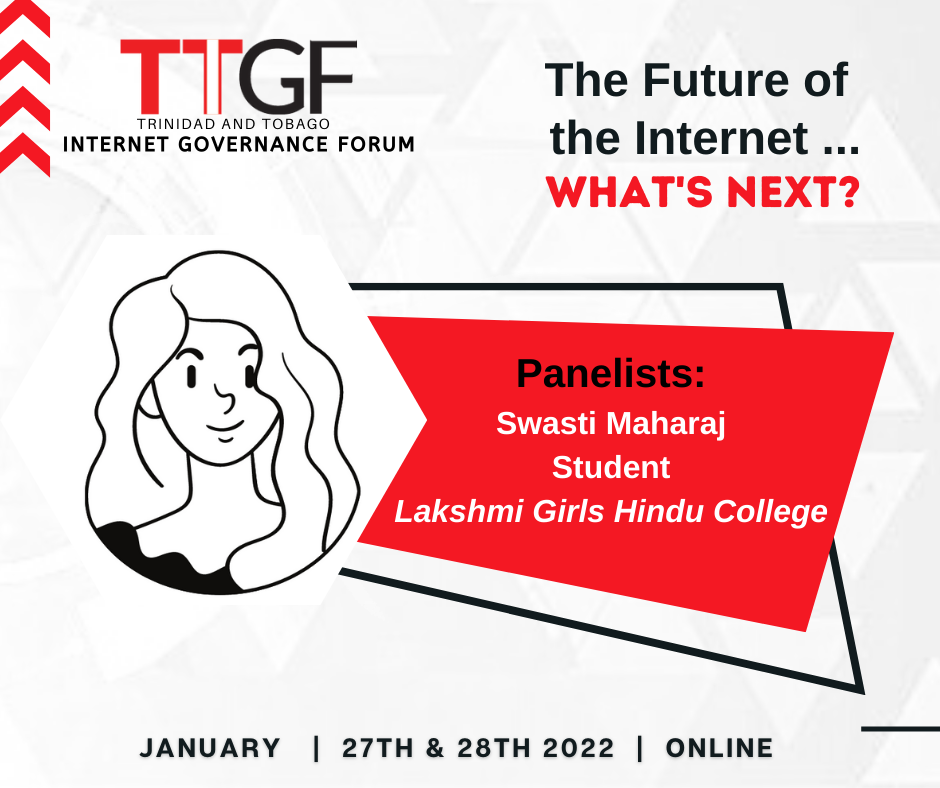 My name is Swasti Maharaj. I am fourteen years old and I attend Lakshmi Girls' Hindu College. I am passionate about foreign languages, Information technology and Literature. I have been affiliated with RSC for approximately two years as I am part of the tech support committee at RSC. I also tutor students from my school who are enrolled in the progamme, along with other participants from the 7 – 12 year old age group. I have embraced technology and it is a pleasure for me to share this passion with others.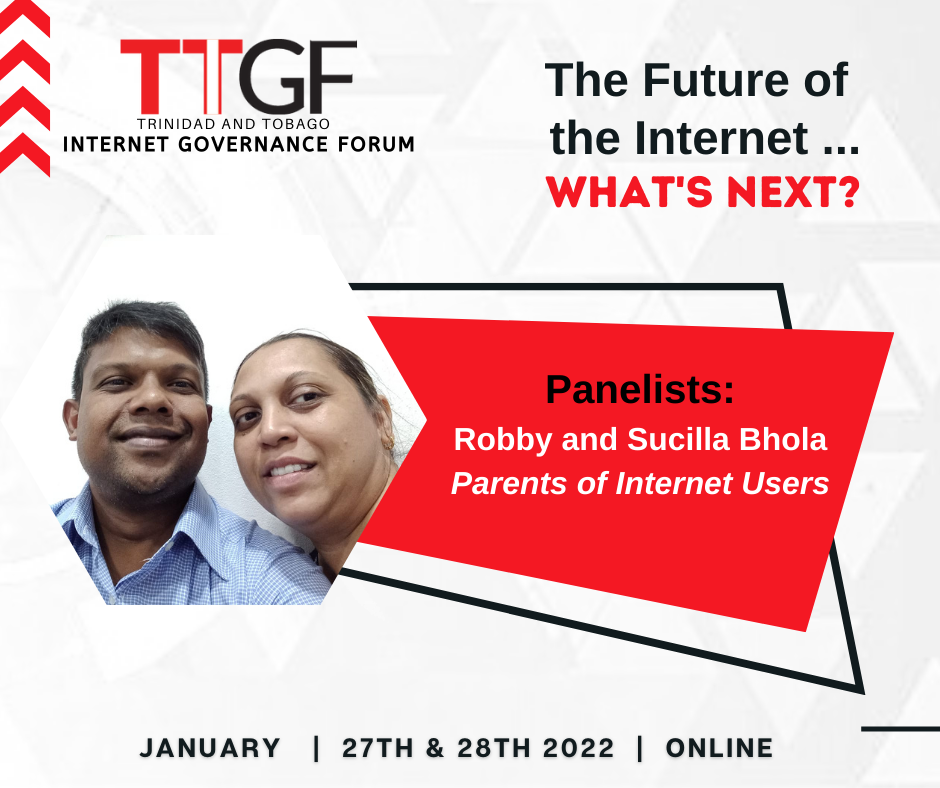 Robby and Sucilla are happily married. Robby is Chartered Accountant by profession; he manages an accounting practice, Robby Bhola and Associates, which provides cloud based and virtual accounting solutions, taxation, external and internal audits. Sucilla has a degree in Human Ecology with an option in Nutrition and Dietetics and also supports the accounting practice.
Robby and Sucilla are proud parents of two children. Rahul who is ten years old and Sabena who is five years old. Both Rahul and Sabeena attended sessions at the Digital Guru BootCamp in Digital Literacy and Digital Citizenship.
Panel Session:
ENHANCING INTERNET RESEARCH, DATA AND MEASUREMENT FOR DEVELOPMENT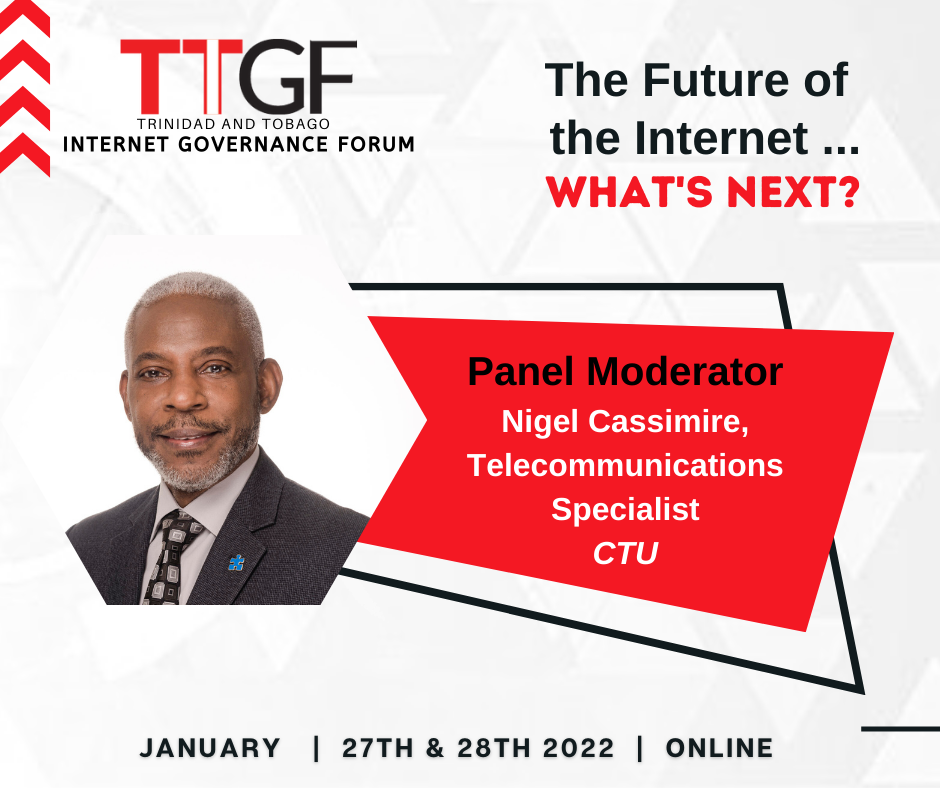 Nigel Cassimire is a telecommunications engineer with over thirty years of experience in the technical, operational and executive management of telecommunications systems and services. He has intimate understanding of a broad range of information and communications technologies and services, with practical experience in network and service planning, operations management and domestic and international telecommunications policy development.
Mr. Cassimire has functioned as a Consulting Telecommunications Specialist since July 2005 and has worked extensively with the Caribbean Telecommunications Union (CTU) Secretariat in Port of Spain developing and promoting harmonised Caribbean positions in the areas of spectrum management, Internet governance and ICT policy. He has also successfully conducted consultancies for several of the member governments of the CTU.
Mr. Cassimire has Bachelor's and Master's degrees in Electrical Engineering as well as a Diploma in Management Studies from The University of the West Indies, St. Augustine. He is a fellow of the Telecommunications Engineering and Management Institute of Canada (TEMIC) and an alumnus of the Advanced Management Programme at INSEAD, Fountainbleau, France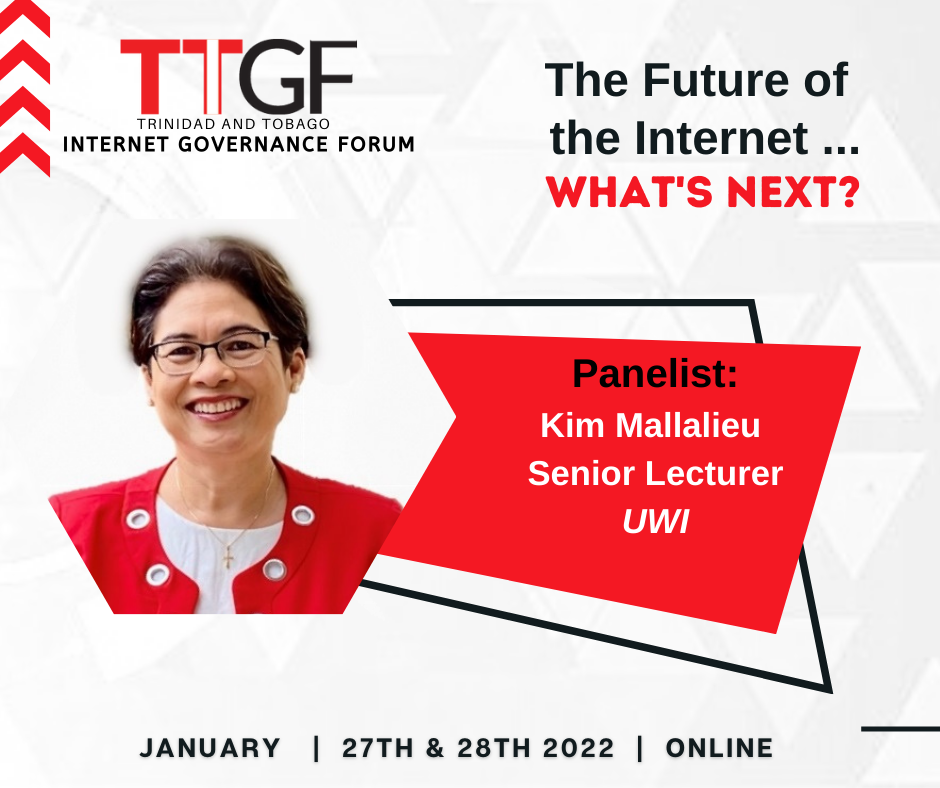 Kim Mallalieu (BS MIT, MS UR and PhD UCL) is a senior lecturer and the leader of the Communication Systems Group in the Department of Electrical and Computer Engineering at The University of the West Indies. She is a past Head of Department, and developer of the Master's in Telecommunications Regulation and Policy, MRP (Telecommunications), coordinating its delivery to participants from over thirty developing countries around the world.
As Principal Investigator of the Caribbean ICT Research Programme (CIRP), founding member of Diálogo Regional sobre Sociedad de la Información (DIRSI), and Leader of the ICT4Fisheries Consortium, Dr. Mallalieu is engaged in multidisciplinary action research on context appropriate strategies for the purposeful application of information and communications technologies (ICT) for human good; with an emphasis on building the resilience of underserved populations. She is a regular speaker, chair and multichannel contributor to international fora on topics relating to development-focused technology, policy and regulation. As a keen advocate for gender equality for development, her works include the ITU/ETC report on Women, ICT and emergency telecommunications which has been translated into French, Spanish, Arabic, Russian and Chinese; and she is Vice-Chair of the Advisory Board for the Network of Women (NOW) for the International Telecommunication Union (ITU)'s quadrennial World Telecommunication Development Conference (WTDC). In other capacities, she has led national, regional and international initiatives variously designed to build capacity in ICT policy, regulation, development, application and use.
Dr Mallalieu is Deputy Chairman of the Board of the Telecommunications Authority of Trinidad and Tobago (TATT) where she served as an inaugural member. She otherwise has a rich service portfolio, having sat on several commissions, committees and panels at regional, national and institutional levels in operational as well as advisory roles. She is a Fulbright Fellow and the recipient of local, regional and international teaching and research awards, and other awards of distinction. Dr Mallalieu is a licensed amateur radio and GMDSS short-range operator, and member of Radio Emergency Associated Communication Teams (REACT). She is married with 3 sons and is the Schutzhund handler of Jax Vom Haus Compton.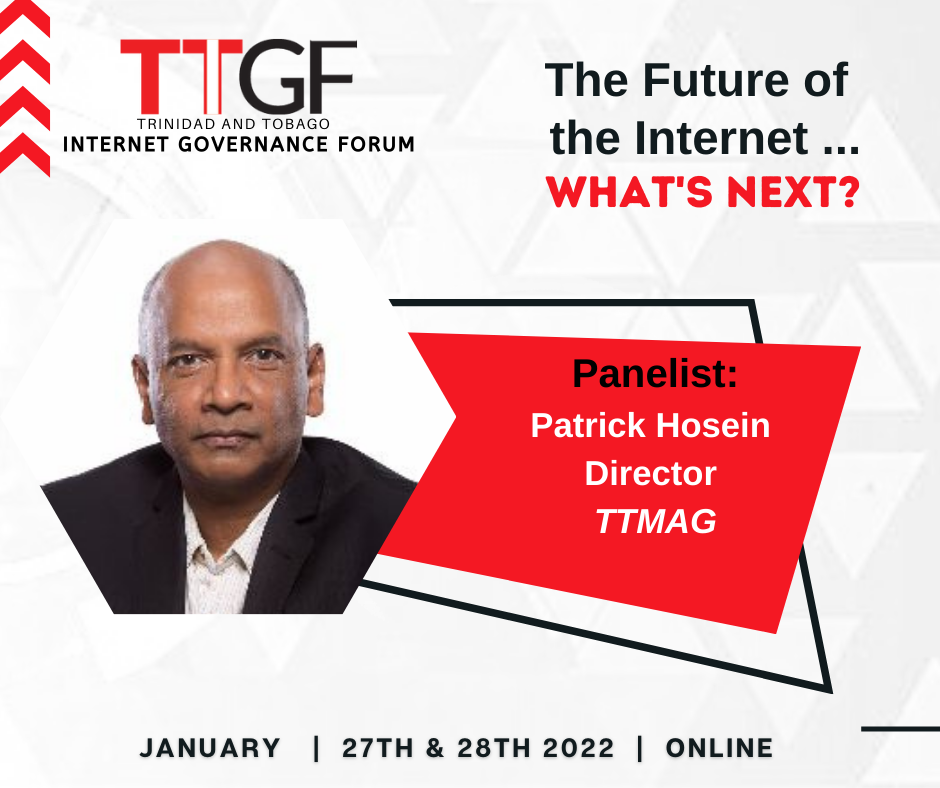 Patrick attended the Massachusetts Institute of Technology (MIT) where he obtained five degrees including a PhD in Electrical Engineering and Computer Science. He has worked at Bose Corporation, Bell Laboratories, AT&T Laboratories, Ericsson and Huawei. He has published extensively with over 150 refereed journal and conference publications. He holds 41 granted patents in the areas of telecommunications and wireless technologies. He was nominated for the Ericsson Inventor of the Year award in 2004, was the Huawei US Wireless Research Employee of the year for 2007 and is a 2015 Anthony Sabga Caribbean Laureate for Science and Technology. Patrick is presently the administrative and technical contact for the TT top level domain, CEO of the TTNIC and a Professor of Computer Science at the University of the West Indies. His present areas of research include Applied Data Science, Operations Research and Performance and Pricing Optimization for Cellular Networks.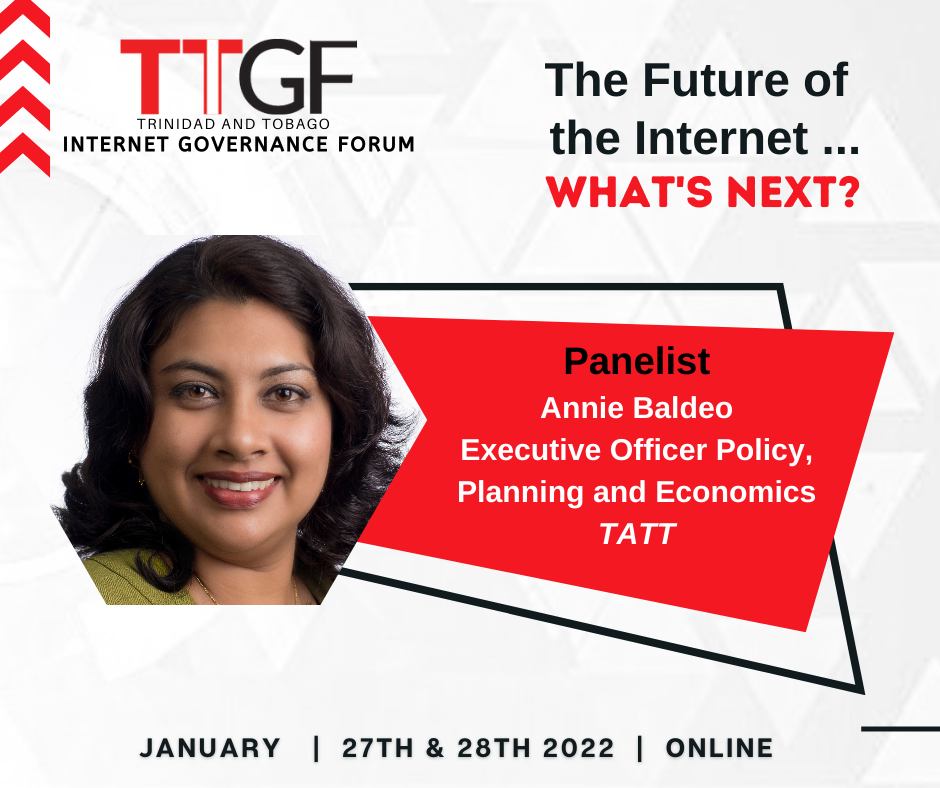 Ms. Annie Baldeo is the Executive Officer, Policy, Planning and Economics at the Telecommunications Authority of Trinidad and Tobago (TATT). She has served with TATT for over seventeen years where she is responsible for policy development, statistical indicators, competition analysis and strategic planning. She contributes to the publication of Trinidad and Tobago industry's Market Reports and was previously appointed vice-chair of the International Telecommunications Union international expert group on benchmarking telecommunications and ICT indicators.
Prior to this position, Annie was employed with organisations both in the private and public sector including the National Information and Communication Technology Secretariat of the Ministry of Public Administration where she was involved in the development of Trinidad and Tobago's first National ICT Plan.
Her academic qualifications include a Bachelor of Science Degree in Management, Economics and Finance from the University of the West Indies, and an MBA in Strategic Planning.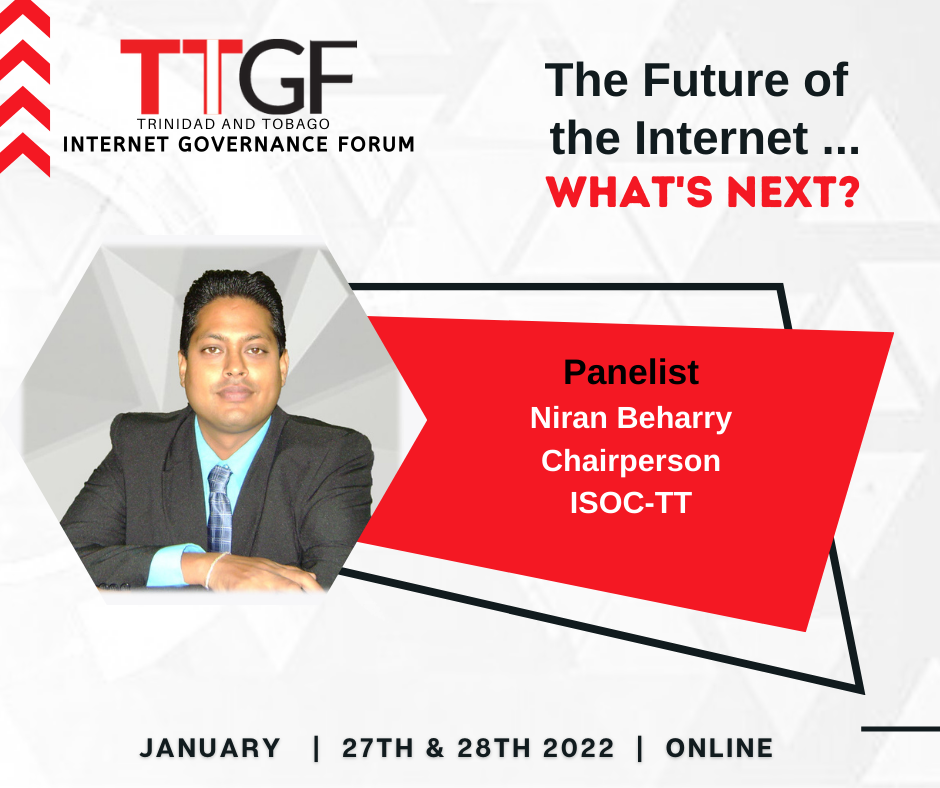 Niran Beharry is a Caribbean Technologist, Researcher, Project Manager and Engineer. He holds multiple degrees and certifications inclusive of BEng Materials Science and Engineering (Imperial College), MEng Civil Engineering (Imperial College), BSc Computing and Information Systems (University of London). He has over 20 years' experience having worked in several sectors within the Caribbean and Globally inclusive ICT, Finance, Civil Engineering, Industrial Design, Logistics and Environmental Management.
Under his first company CITSAS Limited he developed vision algorithms and hardware systems with several patents pending for use in remote imaging applications, it was acquired by Lockheed Martin Aerospace Electronic Systems now BAE Systems Electronic Systems.
He is also the CEO of a multidisciplinary consultancy company Proteus Technologies Limited and a standing board member of Kairos Capital Investments as their lead technology advisor.
He also gives guest lectures on several topics inclusive of Entrepreneurship, Innovation, Blockchain, and other emerging technologies and has spent many years mentoring and nurturing Caribbean startups.
His introduction to Internet Governance came with him becoming one of the founding members of the Internet Society Trinidad and Tobago Chapter in 2011 and serving on the Executive as the Assistant Secretary, until 2017 when he accepted the nomination to serve as Vice-Chair and then served as chair of the chapter from 2019 to 2021. He also assisted in drafting the ATLAS II statement in 2015 as a member of the ALAC. He is also a member of the Internet Society's Blockchain SIG.
Panel Session:
THE INTERNET AND THE LAW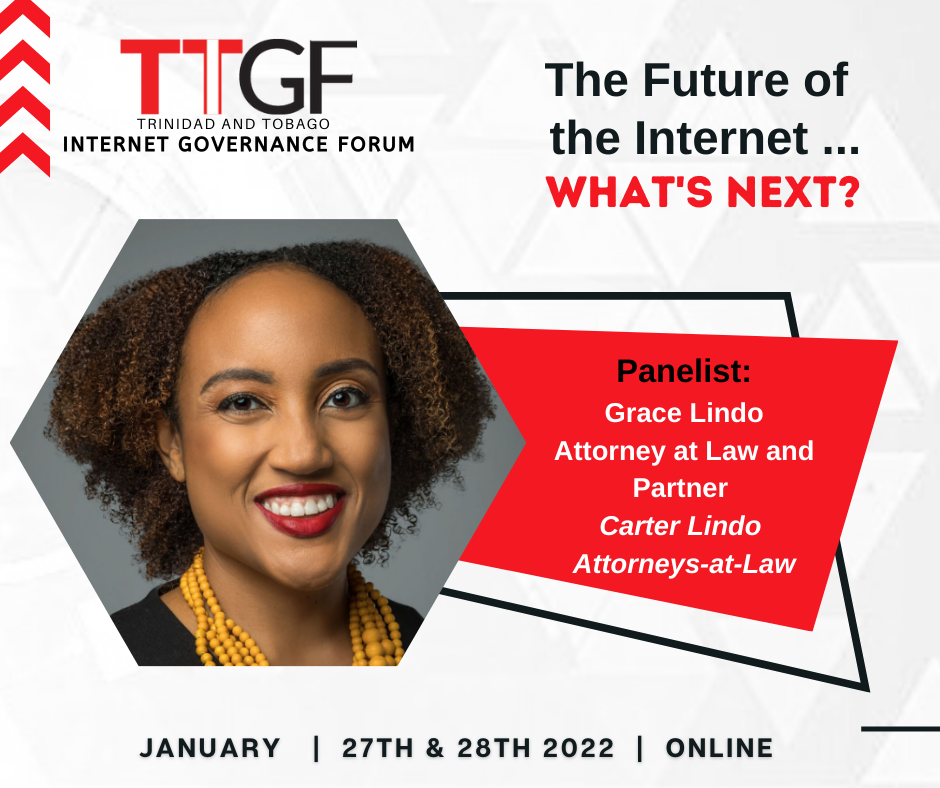 Grace is a commercial and intellectual property lawyer based in Kingston, Jamaica. She has worked with local and international clients in a diverse range of sectors looking to do business in Jamaica or Jamaican entities with regional or international corporate aspirations. Her practice covers commercial law, intellectual property, technology and technology transactions, e-commerce, trade, regulatory matters, cybersecurity, data protection, corporate governance and mergers & acquisitions. A Chevening Scholar, she attended the London School of Economics and Political Science (LSE) from which she obtained a Master of Laws (LL.M) in Competition, Trade and Innovation with a focus on technology regulation.
Grace has been consistently ranked as a leading trademark professional in the Caribbean by the World Trade Mark Review (WTR) since 2014. She is a Certified Information Privacy Professional (CIPPE), an accreditation given by the International Association of Privacy Professionals (IAPP) and was an ICANN (Internet Corporation for Assigned Names and Numbers) Fellow for the years 2017-2019. She currently sits on the Legislation and Regulations Committee of the Jamaica Chamber of Commerce as well as the Commercial and Intellectual Property Committees of the Jamaica Bar Association.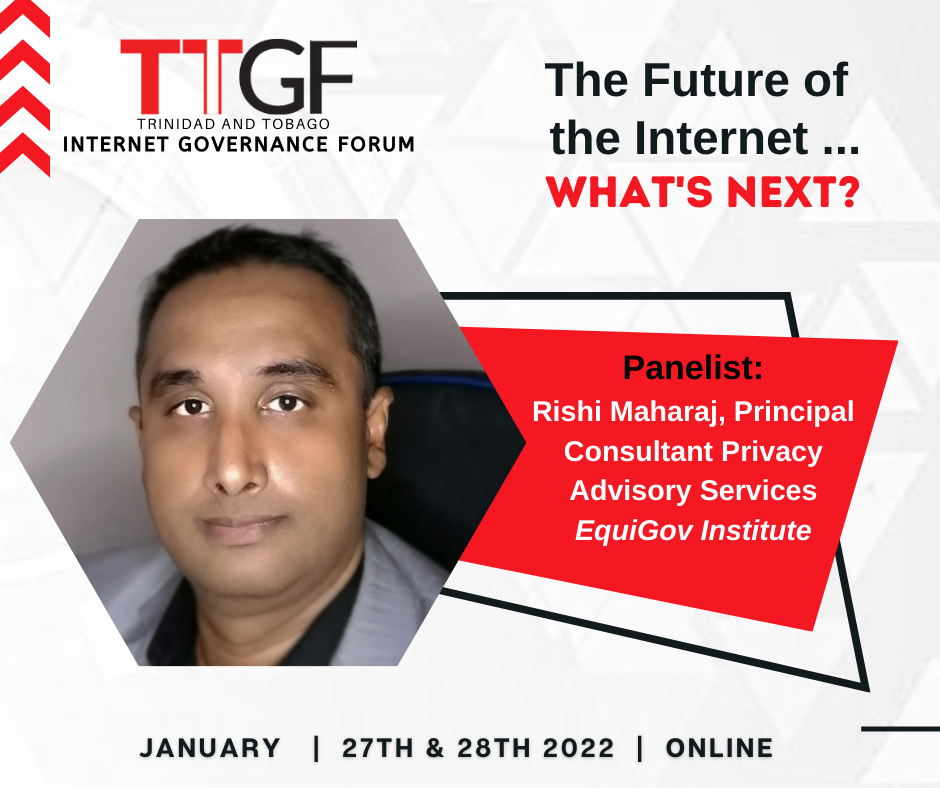 Rishi is the holder of a BSc. and MSc. in Government from the University of the West Indies and is a Certified Information Privacy Manager (CIPM).
He is currently the founder and principal consultant of Privacy Advisory Services a boutique digital compliance consultancy that specialises in supporting organisations as they navigate data expansion and digital transformation.
With over 15 years of experience within both the public and private sphere, he has considerable knowledge and experience of the workings of government both from an operational and policy aspect as well as a unique insight into the challenges faced by organisations trying to engage in digital transformational change.
Some of his major accomplishments while in the public sector included being the Co-Project Lead for the conceptualization and implementation of an Integrated Service Delivery One-Stop Shop Model (TTConnect). He was also the project lead on the final drafting, passage and partial proclamation of the Data Protection Act of Trinidad and Tobago in 2011 and participated in the drafting of model legislation on Freedom of Information and Data Protection through the International Telecommunications Union HIPCAR Project.
Within the private sphere, he has guided organisations in the development and implementation of data governance programs as well as data protection management programs that are in line with the General Data Protection Regulations (GDPR) as well as recent data protection legislation in the region (Jamaica, Barbados, Cayman Islands, Bermuda, Bahamas etc). Rishi is a certified member of the Canadian Institute of Access and Privacy Professionals and the International Association of Privacy Professionals.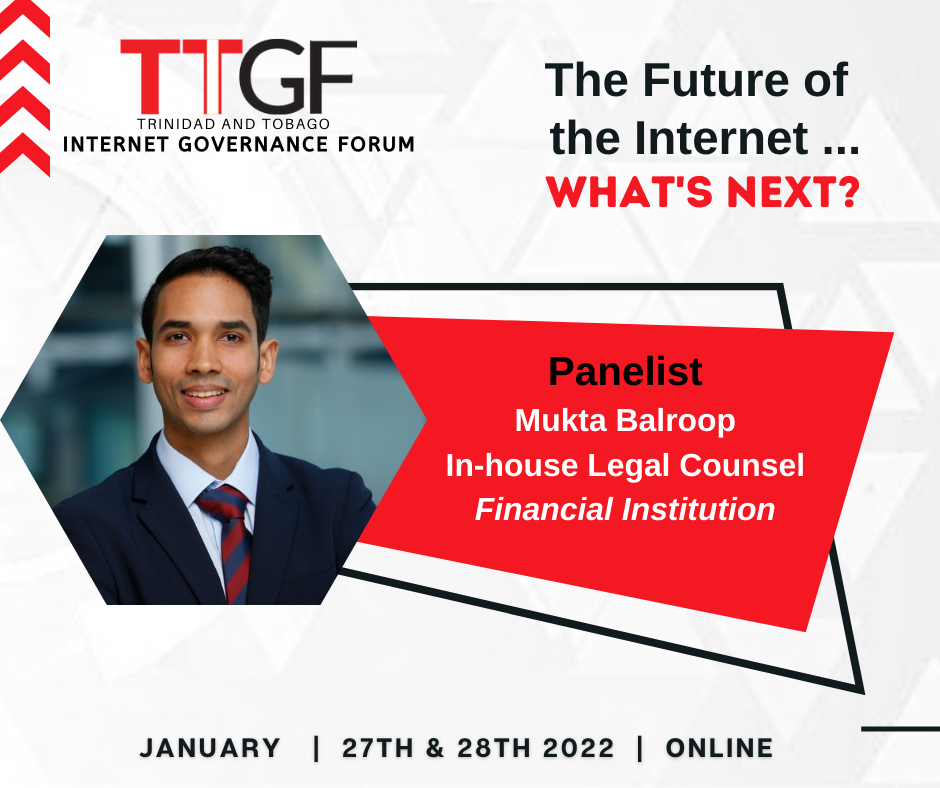 Mukta is presently an In-house Legal Counsel for a financial institution. In his present role, he helps to protect the financial institution from various types of risk, including regulatory, legal and reputational. Previously, Mukta practiced corporate and commercial law at a well-established law firm in Port of Spain where he advised local and international clients on a range of corporate and commercial matters. He started his career as a Judicial Research Counsel, at the Judiciary of Trinidad & Tobago where he gained invaluable experience at the appellate level in a wide range of civil matters. In 2017, Mukta pursued his LL.M in Media Law at Queen Mary University of London having won a Chevening scholarship; there, he studied topics such as EU Data Protection law and Cybercrime. He then went on to experience the compliance aspects of data protection, as a Data Privacy Analyst-Intern in the Privacy Practice of an international consultancy firm in London, where he supported multinational clients with their compliance of the EU's General Data Protection Regulation and other related laws. Mukta is also a Certified Information Privacy Professional.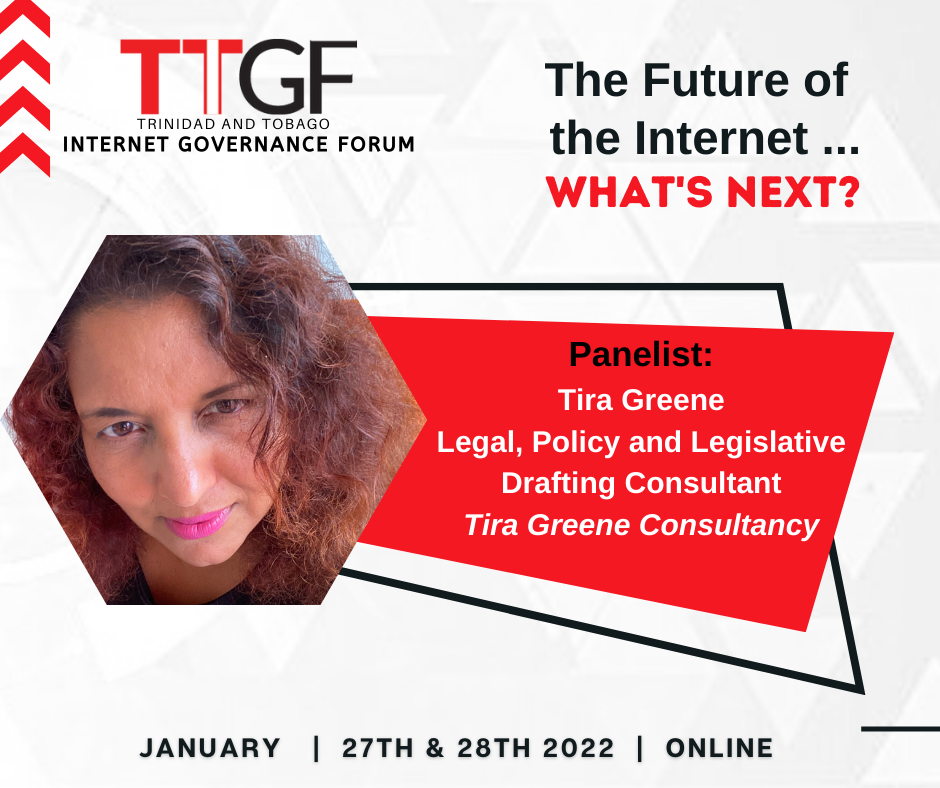 Tira Greene is an attorney at law and legal consultant who has worked both in the Caribbean and internationally These assignments have spanned across the Caribbean, Africa, Southeast Asia, and Pacific States.
In recent years, Tira has been actively involved in digital government transformation initiatives. She has focused on reviewing and reforming legal, regulatory and institutional regimes relating to trade, data protection and electronic transactions, digitization of government processes and broader ICT initiatives in various jurisdictions, including the OECS Protocol Member States, Trinidad and Tobago, Belize, St. Lucia, Antigua and Barbuda and Smart Africa member states. Her work in this area includes redesigning processes to create new services and opportunities that will facilitate high quality services and allow government agencies to achieve increased inclusiveness, efficiency and effectiveness. Through her work, she has been making a substantial contribution to digitization of public administration in the Caribbean.
Tira holds an LLB, with honours, an Advance Diploma in International Law, and a Master's degree in Telecommunications Policy and Regulation from the University of the West Indies. She is a member of the IEEE P2863 Organisational Governance of Artificial Intelligence Working Group and the IEEE Tech & Connection of Power Committee.
Panel Session:
TRINIDAD AND TOBAGO'S DIGITAL TRANSFORMATION JOURNEY – WHAT'S NEXT?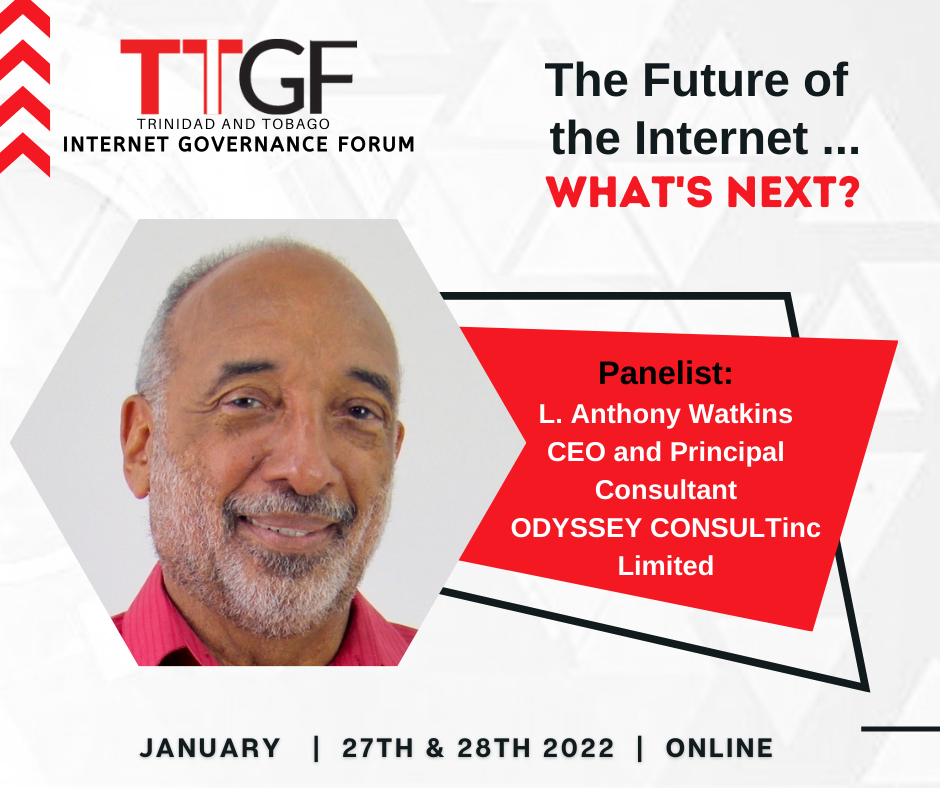 L. Anthony Watkins is the CEO and Principal Consultant of ODYSSEY CONSULTinc Limited – a premier human resource and organisational development consultancy in the Caribbean. He has been actively involved in public and private sector organisational transformation and development throughout the region, since the early 1990s.
After graduating from the University of Toronto with a Bachelor of Arts in Psychology and Sociology, he worked in the fields of social pathology and correctional services in Canada, and later in education on returning to Trinidad.
A founding and honorary life member of the Human Resource Management Association of Trinidad and Tobago (HRMATT), he is currently Chairman of the Community Recovery Committee, and has served as a member of the 'Caribbean Leadership Project' Delivery Team, the Task Force for Establishment of the National Statistical Institute of Trinidad and Tobago, and on numerous Boards of Directors.
In 2020, he was conferred an honorary Doctorate of Laws by the University of Trinidad and Tobago (UTT) and was awarded a Public Service Medal of Merit (Gold) in 2019.
As an OD consultant with over 30 years' experience, his areas of specialisation include organisational change and transformation, visioning and strategic planning, leadership development, team building and expert process facilitation.
His life work as an author, renowned keynote speaker and his service to organisations and community-based initiatives are rooted in a commitment to enriching our region and the lives of our people.
Kandyss is a serial entrepreneur, having 13 years of experience in business leadership & technology focused on innovation, creating strategic vision and driving high impact technical teams to consensus and delivery.
She also holds the position of Director of OOS Global & OOS Cyber Security Ltd. overseeing and managing Product Design & Development of software applications & security teams in the Caribbean, US & Eastern Europe.
Recently, she joined the team of TheFinRoute as CEO, a revolutionary FinTech company in the Caribbean & US and in 2021 was appointed to the IGovTT Board of Directors.
Kandyss specialises in Virality, utilising digital marketing analytics to monetize digital platforms. These skills and ability to test and analyse data bleeds seamlessly into her focus in Product Development and creating strategic visions that drive high impact technical teams to execution and delivery.
She holds a BSc. International Business Management from the University of the West Indies, Cavehill and has led a variety of mentorship programs with a total base of over 6,000 participants throughout the Caribbean.
In 2015 alone, together with Royalink Ltd., she created a cohort of students between the ages of 12 and 19 to build 15 tech startups all solving problems in their communities.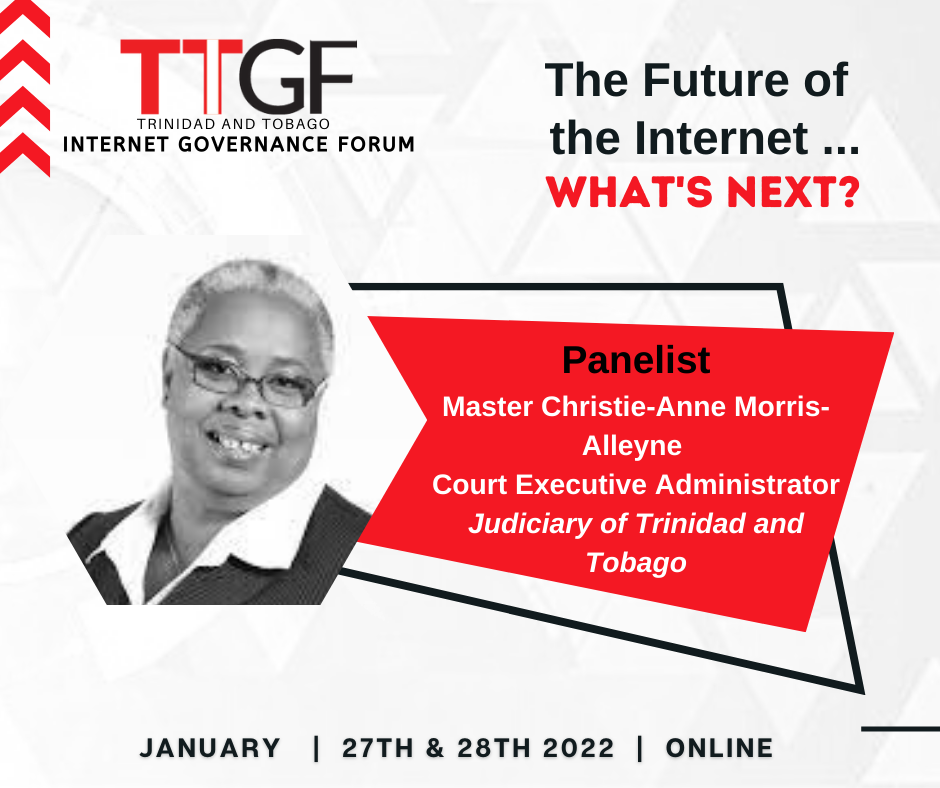 Master Christie Anne Morris-Alleyne is the Court Executive Administrator of the Judiciary of Trinidad and Tobago. She is an attorney at law, Fellow of the US Institute for Court Management and a Project Management Professional (PMP), with well over thirty very active years in court management, court reform and judicial reform planning, design and implementation in the region. She was the first Court Executive Administrator of the Judiciary. She was also the first Court Executive Administrator of the Caribbean Court of Justice where she led a team in creating from scratch the processes, procedures and systems for that also technologically advanced court.
Mrs. Morris-Alleyne is respected as the foremost expert in caseflow management in the Caribbean region and has provided advice and training on various reforms throughout the Caribbean and internationally. She is at present a member of the Board of the International Institute for Judicial Excellence, and the Cabinet appointed Advisory Committee on Digital Transformation.
For her work, she was honoured as one of the Fifty Most Outstanding Public Servants in the 50 years of independence and was awarded the Chaconia Medal Silver.