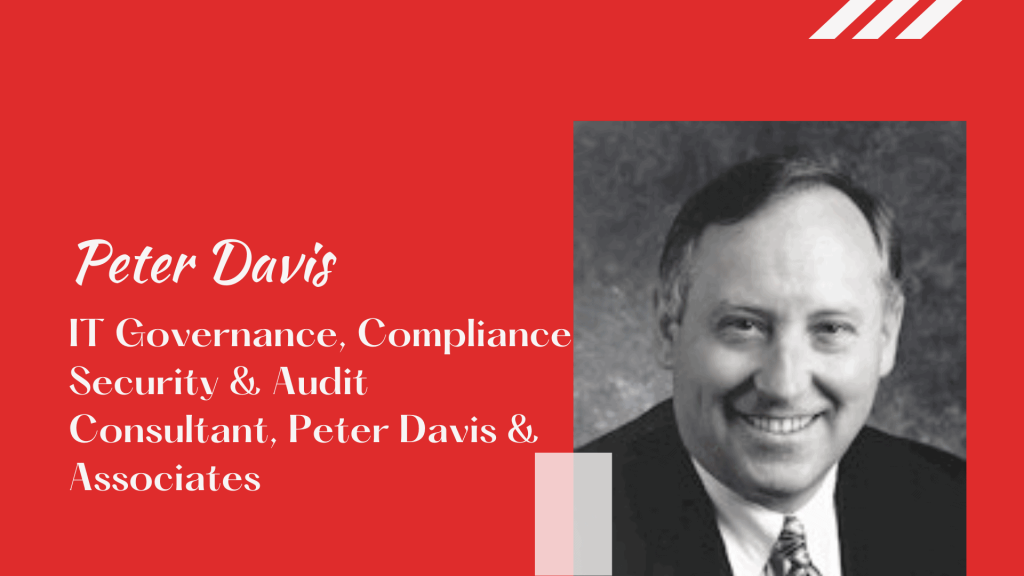 Peter Davis and Associates is a management consulting firm specializing in IT Governance, Security, and Audit. Prior to founding PDA, Mr. Davis' private sector experience included stints with two large Canadian banks and a manufacturing company. He was formerly a principal in the Information Systems Audit practice of Ernst & Young. In the public sector, Mr. Davis was Director of Information Systems Audit in the Office of the Provincial Auditor (Ontario), where he had oversight audit responsibilities for all Ontario crown corporations, agencies and boards. A 38-year information technology governance, audit and security veteran, Mr. Davis' career includes positions as consultant, security administrator, security planner, and information
systems auditor.

Mr. Davis also is the past President and founder of the Toronto ISSA chapter, past Recording Secretary of the ISSA's International Board and past Computer Security Institute Advisory Committee member. In addition, he was a member of the international committee formed to develop Generally Accepted System Security Principles (GSSP). Mr. Davis has written or co-written 13 books including "Project Management Process Capability Assessment," "Lean Six Sigma Secrets for the CIO," "Hacking Wireless Networks for Dummies," "Wireless Networks for Dummies," "Computer Security for Dummies," and "Securing and Controlling Cisco Routers."
Peter is listed in the International Who's Who of Professionals. He is a past Editor of EDPACS, a monthly publication for security and audit professionals. Mr. Davis is currently pursuing his LL.M at the University of Toronto.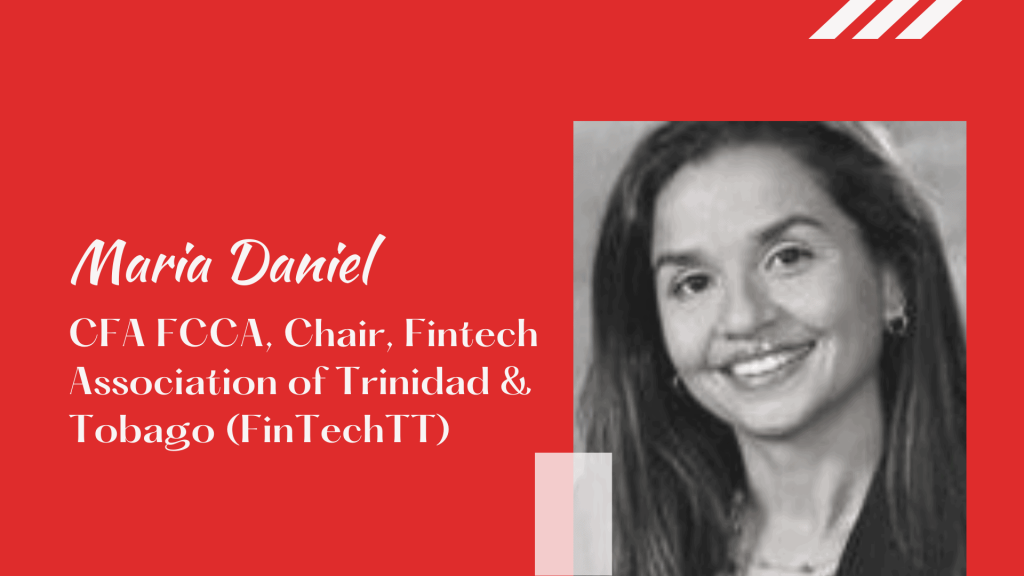 Maria is a Partner in the Strategy and Transactions practice based in the Trinidad office. She has led several high-profile engagements and has provided clients with advice on raising both debt and equity capital as well as strategic options analysis towards maximizing shareholder value. She specializes in business valuations, transaction support services on both the buy-side and sell-side of the transaction, mergers, acquisitions and divestitures, independent business review, receiverships, restructuring, strategic advisory services including digital transformation, and turnaround advisory. Maria is a Chartered Financial Analyst Charter holder, holds an FCCA designation and a BSc. in Economics and Management (Upper Second Class Honours) from the University of the West Indies. Maria is also a licensed Trustee under The Bankruptcy and Insolvency Act of Trinidad and Tobago. Maria has worked in several different sectors across the Caribbean not limited to Fintech Solutions, Strategic Advisory Services, Valuation Services, IFRS 9 Implementation, Receiverships and also Assurance support. She also works with entrepreneurs to develop business plans and models for new and expansion projects.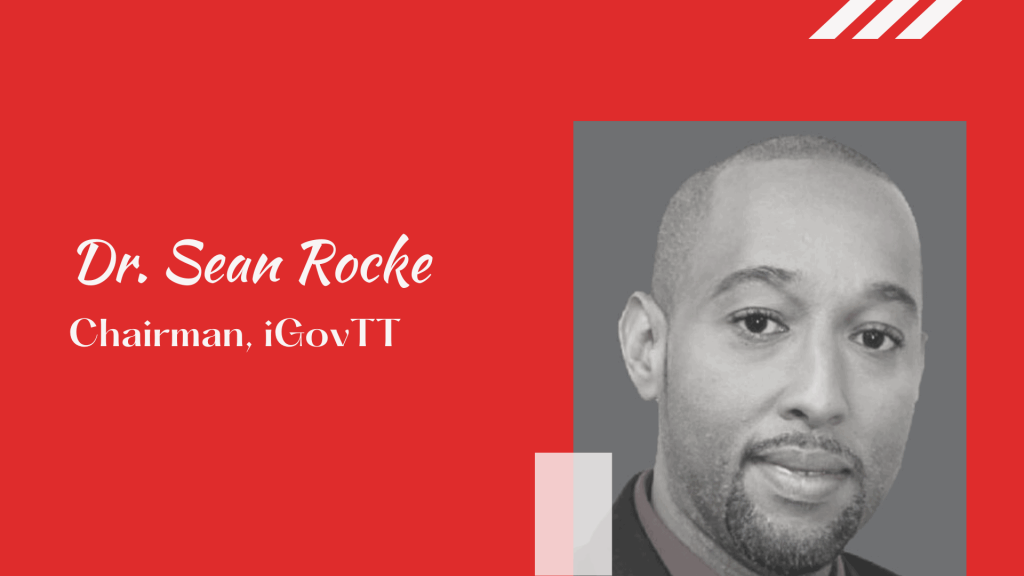 Dr. Sean Rocke is a distinguished lecturer at the University of the West Indies, St. Augustine Campus in Electrical and Computer Engineering. He has co-authored numerous articles for various publications, including books, engineering journals such as the West Indian Journal of Engineering, presentations and workshops at conferences, both regionally and internationally. His career started in teaching Mathematics, Physics and being the Network Administrator at a local College. He subsequently embarked on his academic pursuits that led him to complete his BSc in Electrical and Computer Engineering at the University of the West Indies, graduating at the top of his cohort within the Faculty. His keen interest in Information and Communications Technologies (ICTs) led him to read for a Masters in Communication Management with a focus on Government Policy and Management of ICT Implementation in the UK and then a PhD in Electrical and Computer Engineering in the US, focusing on Next Generation Spectrum Management for Emerging Wireless Technologies. Throughout his academic pursuits, Dr Rocke has been the recipient of numerous scholarships and awards earned by his exemplary work, including National Government, British Chevening and US Fulbright scholarships. His work in the field has seen him in the industrial sector at PCS Nitrogen and in telecommunications at TSTT as well as academia at leading tertiary institutions. He currently lectures several postgraduate and undergraduate courses in communications systems engineering and conducts research into the deployment of low-cost biotechnology solutions in the Caribbean, additionally leveraging his experiences with ICTs for the Health, Agriculture, Sporting, Disaster Management, and Education Sectors. Dr Rocke has recently served as an Academic Representative on the CTU-initiated Spectrum Management Task Force. He is a member of, and has been the reviewer of various publications for, the Institute of Electrical and Electronic Engineers (IEEE). He is also a member of IEEE Communications Society, the Association of Computing Machinery (ACM) and has been a motivational speaker for the Heroes Foundation.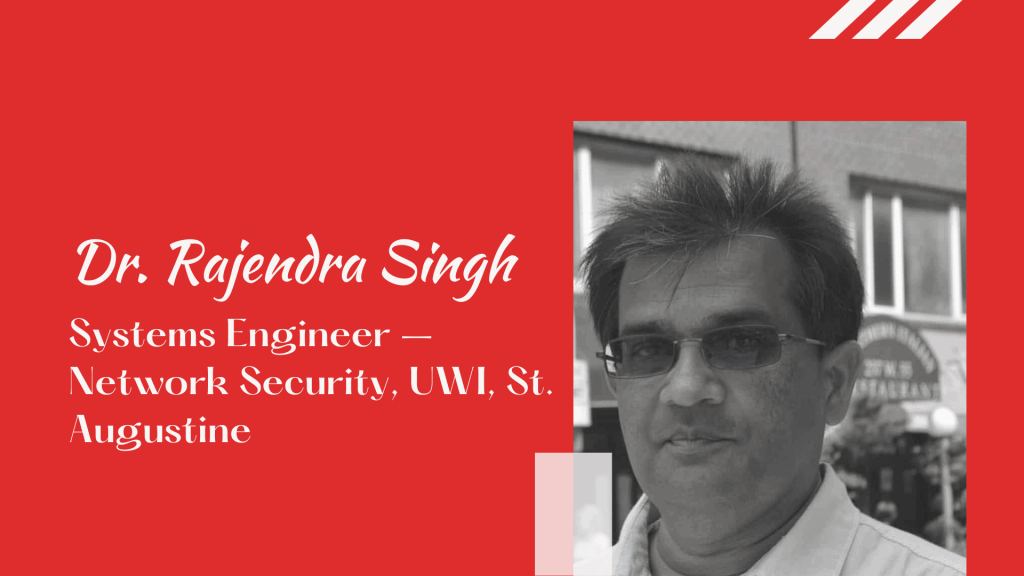 In 1992, just for fun (and with permission) as a student, Rajendra G. Singh (Raj) developed Terminate and Stay Resident Interrupt Handlers to covertly obtain the superuser password for The University of the West Indies (UWI) networked VAX Mainframe Computer. That year he graduated with a BSc Degree in Computer Science to kick-off the start of his IT career.
One year later, he found himself working as a programmer for a leading Bank in the Caribbean, where he would develop software for detecting real-time ABM fraud. During tenure at the Bank, he notably demonstrated a significant exploit against the Bank's Mainframe. The exploit leveraged a vulnerability which he identified in the Mainframe's Operating System to make possible launching Jobs (programs) without Operator's intervention, thus allowing for the capability to change Account Balances with almost no audit trail. In the late-90s, when an English speaking first-world country informed him that they did not have jurisdiction to assist in preventing a cyber-intrusion, originating from a non-English speaking first-world country, he began to explore offensive-security countermeasures to defend his dial-up Internet home-computer. One countermeasure resulted with remotely powering-off eight offending servers for several hours in a Data Centre located in the foreign country, it included leaving behind a hidden cease-and-desist message.
Raj left the Bank after having assisted with many ABM and Point Of Sale System Y2K fixes, to work as a Data Systems Consultant for an EU funded project. During the two years on the project, he travelled amongst several Caribbean countries to document the state of Internet connectivity. The goal was to present designs for online access amongst the CARIFORUM National Libraries, Museums and Archives. It cumulated with him successfully delivering training for close to 100 intended users of the online Systems.
Raj completed a MSc in Computer Science in 2003 and have lectured many Tertiary-level Computer Science courses at The University of the West Indies, ROYTEC and University of New Brunswick, Canada. He has taught hundreds of students in face-to-face settings and was amongst the first to use a website with tailored online content to keep his students excited and motivated in achieving their career objectives. The eLearning designs for the online content he presented in his MSc Project won him "Best MSc Project for 2003" (Microsoft Trinidad Prize).
For the past 16 years to current, he has defined and held the lead role for Network Security at The UWI, St. Augustine Campus, Trinidad and Tobago. Raj has a very broad set of training and experience in Cyber Security, holding as well, several Globally recognized Cyber Security Certifications: GIAC Certified Intrusion Analyst (GCIA), GIAC Information Security Professional (GISP) and GIAC Security Leadership Certification (GSLC).
He has implemented a wide range of innovative solutions for The UWI mostly with minimal to no resources assigned, the latest one leveraging a Vendor's VPN feature to achieve a zero-cost two-factor deployment with self-password reset for all Staff working under the new Normal.
Dr. Singh holds a PhD in Computer Science. His thesis titled Sharing Quality Assured Reusable Learning Objects on a Peer-To-Peer Network with Security Controls contributed new knowledge by combining three areas of Computer Science, viz. eLearning, peer-to-peer networking and security. He has presented his research at several local Seminars and five International Conferences with six International peer-reviewed papers published. During the course of his research, he co-led an opensource eLearning project (Burrokeet) in the development of a Learning Content Management System (LCMS) sponsored by IBM through a grant, and has co-published a peer-reviewed Book Chapter on the use of the Burrokeet LCMS, which also earned him a Special Prize in the "Prime Minister's award for Innovation and Invention" in 2007. After morphing the Burrokeet LCMS into a peer-to-peer eLearning system, he was again a recipient of an award in the "Prime Minister's Awards for Scientific Ingenuity" in 2013.
Dr. Rajendra G. Singh has an uncompromising work ethic, an active University life and valued community involvement, which is well-balanced with a rich family-life. His hobbies include building-construction activities, his own home-based renewable energy implementations and late at nights, he would ponder on remapping the Universe spatially, using a different interpretation he is proposing for the velocity of light!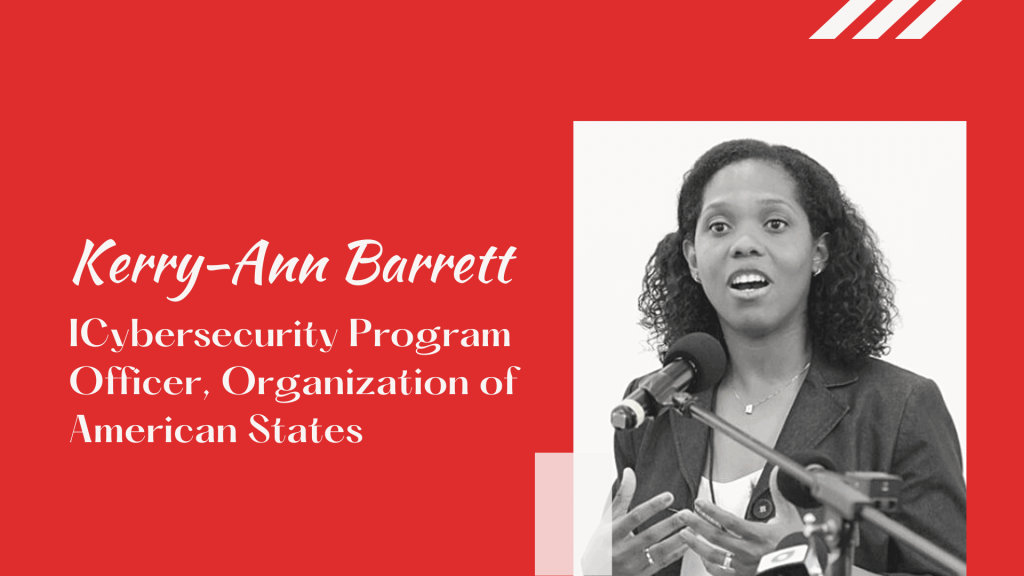 In her capacity, she offers technical assistance to member states in the development and implementation of their national cyber security strategies as well as assists in the implementation of various technical projects with the Cybersecurity Program. She is also an attorney-at-law with over thirteen (13) years of experience spanning both Jamaica and Trinidad and Tobago. Included in her legal professional experience have been appointments within the Ministries of National Security and Trade and Industry and Labour and Small and Micro Enterprise Development, including legal consultant to the CARICOM Secretariat and the ILO Sub-Regional Office for the Caribbean. Mrs. Barrett holds a Certificate in Cyber Security Risk Management, a Post Graduate Diploma in International Arbitration, a Master's in Business Administration (Distinction) in International Business, an LLB and Certification in Legal Frameworks for ICTs. Mrs. Barrett expertise covers electronic commerce, internet governance and cyber security. Most recently, she has led the development of the national cyber security strategies for the Bahamas, Costa Rica, Dominica, Jamaica, Suriname, Dominican Republic and has helped Colombia, Mexico and Peru in developing their national cybersecurity frameworks. Her international experience includes the representation of the OAS in the Council of Europe, ICANN, the ITU project for the development of good practices for national cybersecurity strategies, the Tallinn Manual consultations and has been designated as a member of the Board of Curators for the portal on cybersecurity capabilities of the University of Oxford and an Oxford Martin Associate as a member of the Global Cyber Security Capacity Centre's Expert Advisory Panel, as well as a member of the ICANN SSR2 Review Team.
Anish Bachu is an experienced cyber security professional attached to the Trinidad and Tobago Cyber Security Incident Response Team (TT-CSIRT) under the Ministry of National Security. His duties vary from incident response, vulnerability and threat monitoring to cyber security assessments of government systems and infrastructure.
Anish graduated from St. John's University in New York with his BSc in Cyber Security Systems and Masters of Business Administration. He I also a member of the Cyber Security Industry Advisory Board at St. John's for their BSc and MSc programs.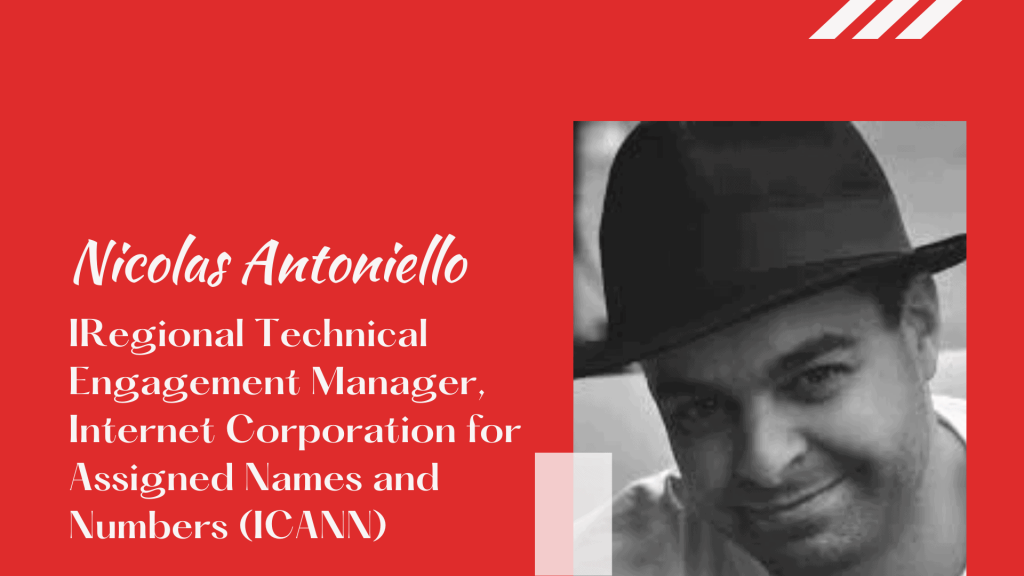 As Technical Engagement Manager for LAC region, Nicolas joined ICANN in March 2020, based in Montevideo office, Uruguay and reporting Adiel Akplogan, VP Technical Engagement at the Office of the Chief Technology Officer. Nicolas will work in coordination with other regional engagement functions at ICANN and lead the execution of the technical engagement strategy. Nicolas is an Engineer and graduated from 'Universidad de la República', Montevideo, Uruguay, in the field of Telecommunications, Electronics and Power Systems. He also studied Engineering at Universidad Complutense in Madrid, Spain; Internet Governance at Diplo Foundation, SSIG and USTTI; among others. For the last five years prior to joining ICANN, he was appointed as a Senior Advisor for the Uruguayan Government's Minister in charge of national telecommunications policy. During his appointment to the Ministry he has represented Uruguay at many regional and international level organizations and treaties. In the past years he has been working for the national telecommunications company (ANTEL) in different positions. He has been a university professor for over 14 years. He has also been working very close with the Internet Technical Community. He has been the Chair of LACNIC's Public Policy Forum for over 6 years; technical instructor at the LACNIC events for many years; as well as participating as instructor in many other courses at regional level. He participated from the community in the development of the DNSSEC Root signing protocol and has been working as a TCR (Trusted Community Representative) for the DNSSEC Root signing process and Key maintaining protocol. After the IANA transition, he was appointed to one seat on the IANA Numbering Services Review Committee corresponding to the LACNIC region, where he served for three years. He is also founding member of LACNOG (the Latin America and the Caribbean Network Operations Group).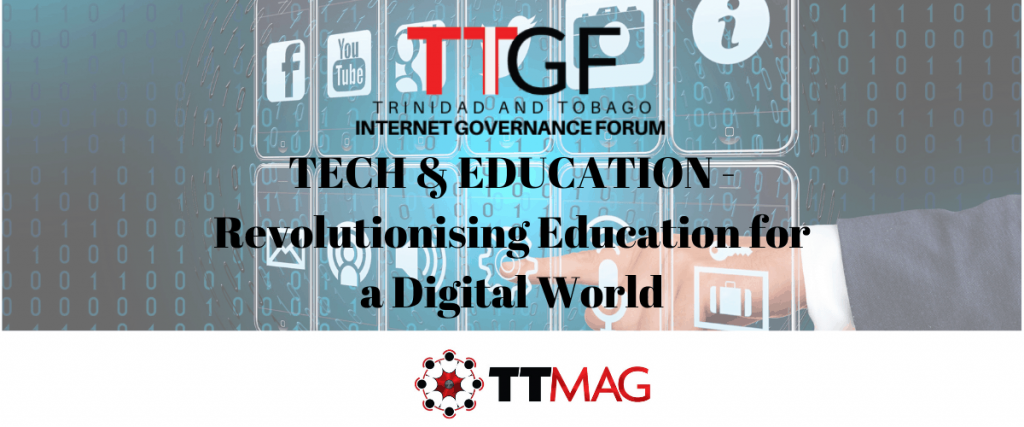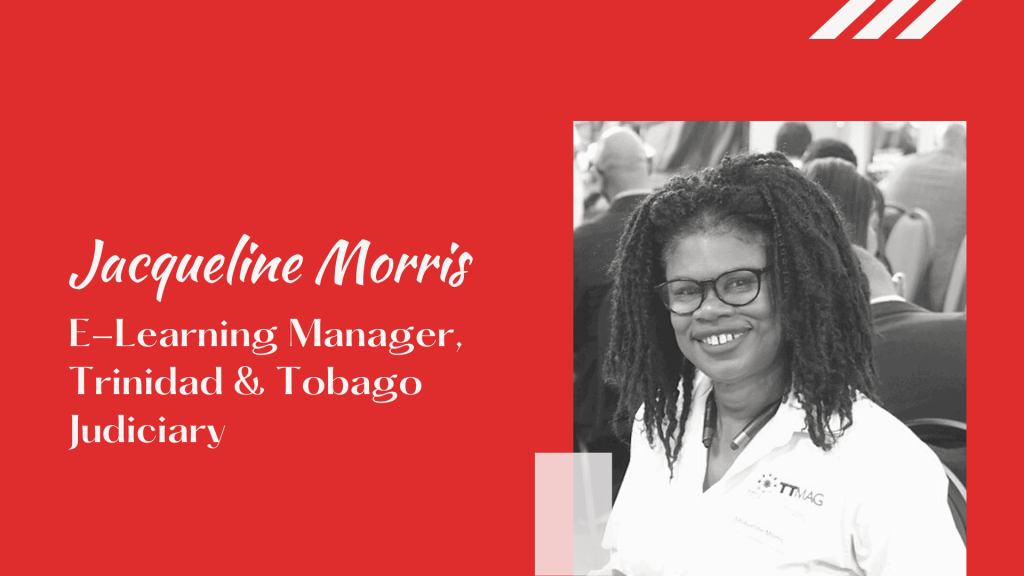 Jacqueline Morris is an experienced tertiary educator, researcher, educational technologist, and instructional designer, whose focus is on the intersection of the Internet and Learning. She currently is the e-learning manager at the Judiciary of Trinidad and Tobago.
During her many years of service as a teacher-educator at the University of Trinidad and Tobago, she taught students in the fields of Education Technology and Instructional Design, at the Centre for Education Programmes. She has also lectured at the UTT in Process Engineering and at the UWI in Management Information Systems and Technology in Tourism. Her current research interests focus on online learning strategies, processes, and the psychology of online teaching and learning. She can also get her hands dirty with regard to creating online content, having also worked for multimedia production and live video projection firm. While there she directed and edited many multiple-camera live concert video productions, and has worked with names like John Legend, Rihanna, Lionel Richie, NeYo, Beenie Man, Shakira, Diana Ross, and Machel Montano. She is a Certified Moodle Educator and a certified Microsoft Innovative Educator.

In 2003 she was appointed by the Secretary-General of the UN to a global panel of experts on Internet Governance. Since then, she has been active in the fields of Internet Governance and ICT policy and has held several positions in International Policy organisations such as ICANN. She is currently the Policy Chair for the Non-Profit Constituency at ICANN. , and the Vice-Chair of the local Chapter of the Internet Society. She was recently voted in as a Director of the TTMAG. She also currently sits as a Director on the Board of the National ICT Company of Trinidad and Tobago (iGovTT).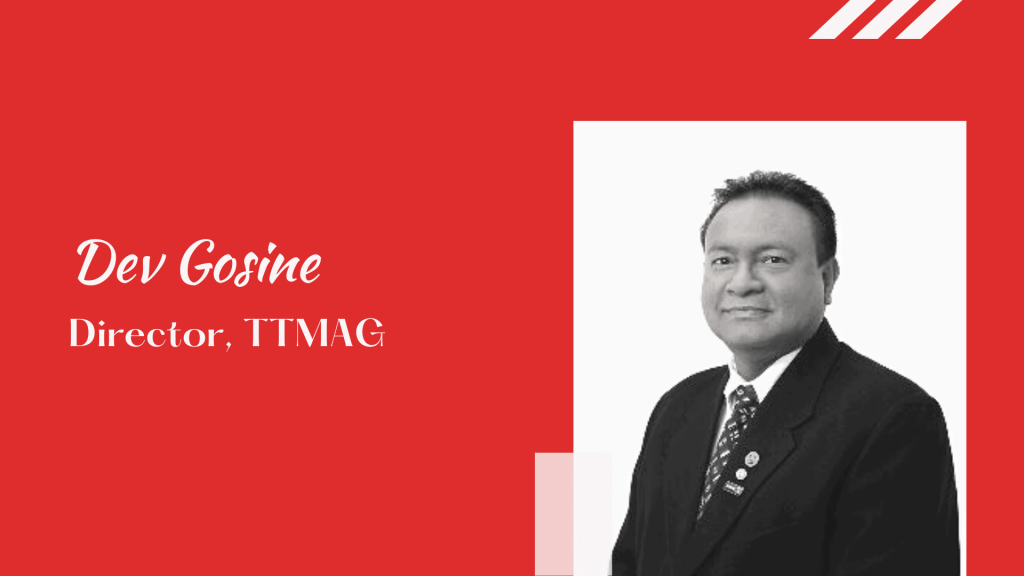 Civil Society Representative from the Rotary Club. Dev graduated from the University of the West Indies with a BSc in Pure Physics and Applied Physics. He has held the following offices in Rotary: President (two terms), Assistant Governor, and District Secretary of Rotary District 7030. He is part of the District Training team with the responsibility for training Rotary Presidents and Assistant Governors for their terms in office. He is very involved in Amateur Radio using voice and all modes of digital communication. He is also very active in the Orbiting Satellites Carrying Amateur Radio (OSCAR). He has built satellite tracking systems to track the polar orbiting satellites, including the Space Shuttles, and CAT systems to correct tranceiver's receive and transmit frequencies for Doppler Shift.
He has had several historic voice contacts with astronauts on board several Space shuttle missions even with students from Naparima College. He is also engaged in low power (less than 10 W) point to point high frequency world wide digital communications coupled with remote station operation. He is the Secretary of Trinidad & Tobago Amateur Radio Society. Dev Gosine is also the Vice Principal at Naparima College, San Fernando.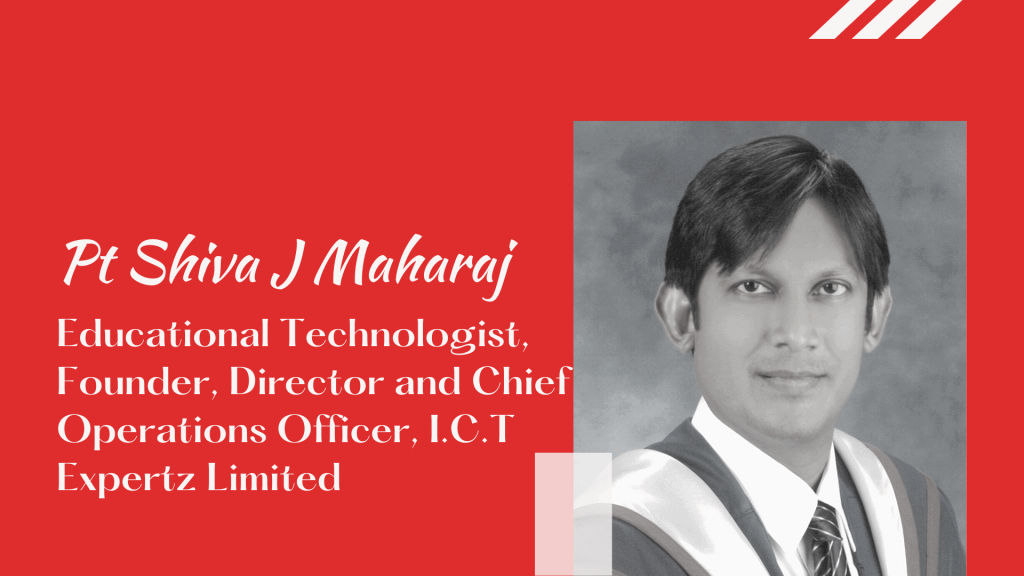 Pt. Shiva J. Maharaj graduated as part of the first cohort with a Masters of Arts in Leadership in Technical Vocational Education and Training and Workforce Development from The University of the West Indies after attaining a Bachelors of Education degree from the University of Trinidad and Tobago. He has also accumulated numerous International Industry-based qualifications and certifications in Telecommunications, Information Technology, Computer Studies, Digital Citizenship Education and End-user Cybersecurity from global institutes.
Over two decades of Pt. Maharaj Educational Technology experience is highlighted in a two-page article published in the Ministry of Education EDUCARE magazine volume 1.2. He was recognized for his innovative and pioneering achievements in the deployment of Educational Technology solutions in Primary and Secondary schools throughout Trinidad and the sister isle, Tobago, over that period. Additionally, in response to the COVID-19 pandemic he has recently commissioned his own branded device, the DigitalGuru Class Tab-PC, which is an optimized out of the box complete online education system for students, especially those living in rural areas.
At the Tertiary level, he imparts his knowledge to other educators, as an Instructor for the Internet Technology Development course in the Masters in Education, Educational Technology programme, at the University of Trinidad and Tobago. Pt. Maharaj advocates on the website, www.DigitalGuru.Tips, for Mobile Literacy, Digital Citizenship and End-user Cybersecurity competencies through his association with industry leaders in those respective fields.
On a global scale Trinidad and Tobago is represented by Pt. Maharaj and his company, I.C.T. Expertz Limited, as the Head of the Trinidad and Tobago Safer Internet Day Committee, and Champions for National Cyber Security Awareness Month and Data Privacy Day.
He has presented papers and presentations at a number of International conferences hosted by Universities, Government and other prestigious institutes, on topics such as; 'Human Capital, the weakest link in Cybersecurity', 'The Digital Future of Ramleela', 'The Use of Technology to Develop Mandirs in Trinidad and Tobago' and 'The Silent Disco Classroom'.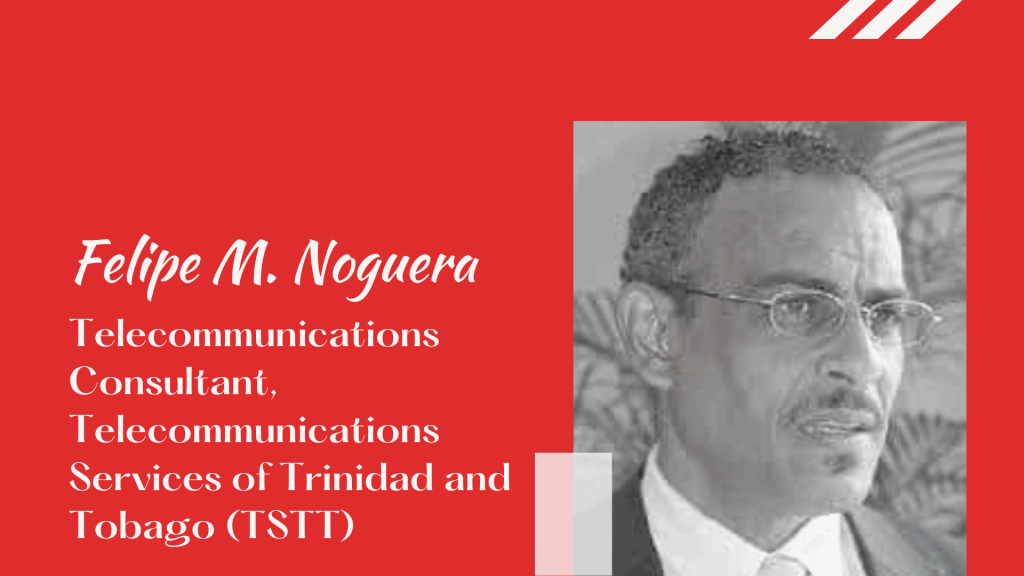 Accomplished, multi-lingual executive with extensive international experience in media, corporate communications, telecommunications, education, business administration, human rights advocacy, community organization, and international trade. Felipe Noguera successfully managed large, Caribbean private telecom companies and trade associations surpassing all financial targets. A central figure and lead negotiator in multiple international trade negotiations and symposia for the World Trade Organization, EU, Commonwealth Heads of Government Meeting, and Summit of the Americas, Noguera has extensive experience as a communications specialist, television news anchor, documentary producer, and radio host. Maximizing the transformational impact of technology by scrupulously researching and implementing best practices and attracting, developing, and retaining great talent to sustain implementation, a dynamic presenter, persuasive advocate, creative strategic thinker, Felipe is an effective team leader and player. He is presently the Director of the Virtual Educare Academy (www.virtualeducareacademy.com)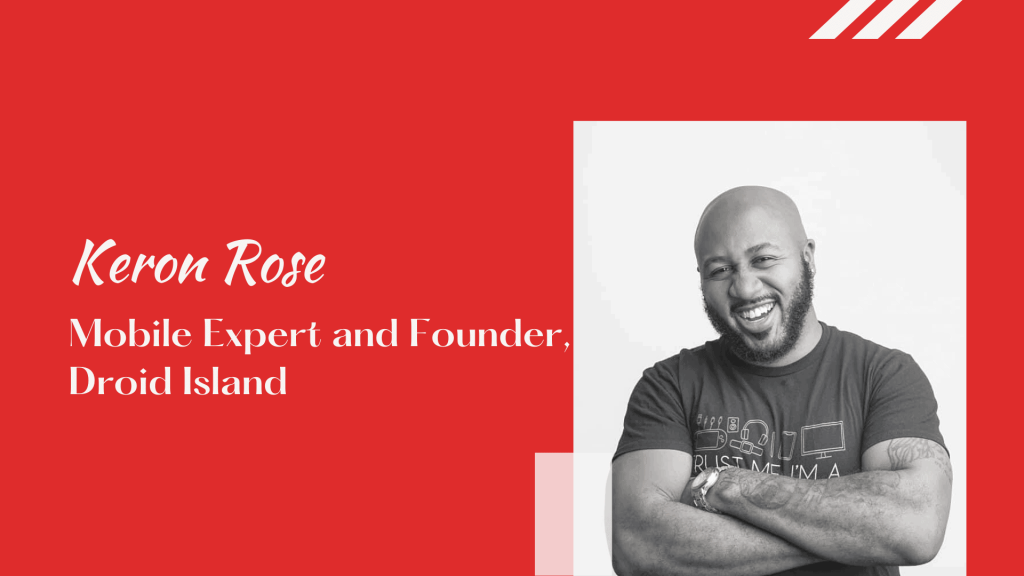 Keron Rose is an Online Business Educator who works with Caribbean Entrepreneurs & Corporate clients on building their businesses online so that they can participate in the global economy. He is the Creator & Host of the Web Show "The Digital Age", which features Caribbean companies and experts, who have created or mastered the platforms and tools we use to conduct our online businesses. He is also the Owner & Tech Blogger behind Droid Island, an online resource center to learn about the Caribbean smartphone industry. Mr. Rose's goal is to be an agent of change in the Caribbean and help entrepreneurs & businesses navigate the Digital Age.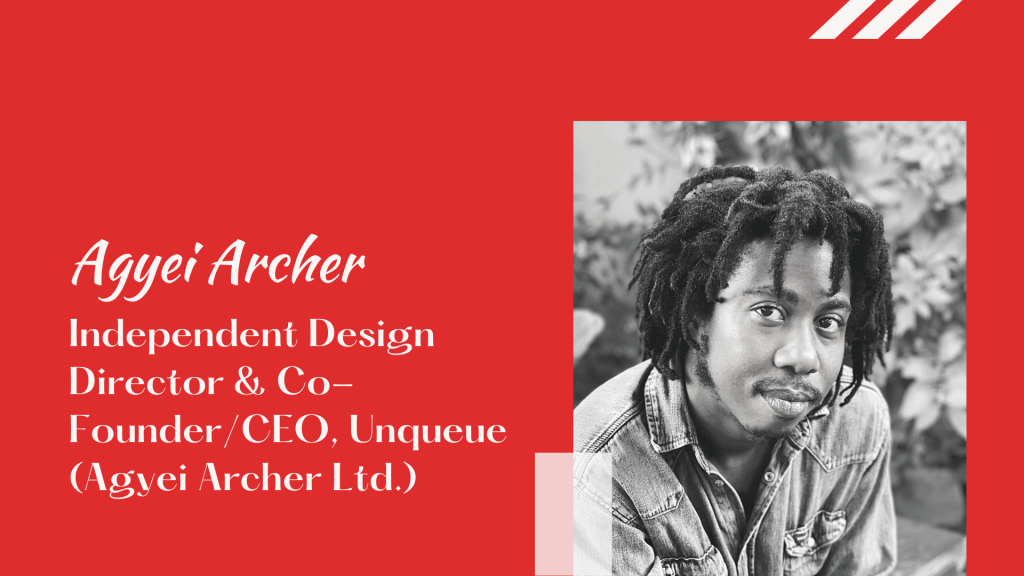 Agyei Archer is a multidisciplinary designer and art director from Trinidad, focusing on work that integrates graphic design for business, typeface design, and programming. He studied Visual Communications at the University of Trinidad and Tobago and typeface design at The Cooper Union. Agyei has 12 years experience in creating brand identities, websites, digital products, publications, and event invites— all with a focus on solutions that integrate meaningful, considered graphics, strong typography, and nimble, well-written code. He recently co-founded Unqueue, a mobile app designed to improve retail experiences in the Caribbean by making digital commerce and sales more accessible and convenient. Past clients include Google, The Rhode Island School of Design, the Government of Trinidad and Tobago, and the Caribbean Mental Health Foundation.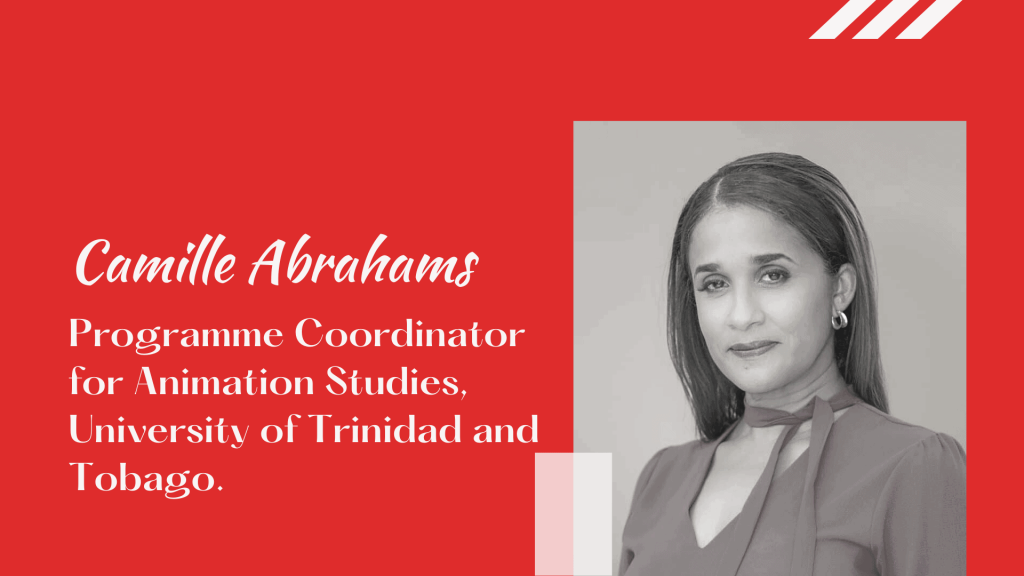 Camille Selvon is the Programme Coordinator for Animation Studies at the University of Trinidad and Tobago. She has a Bachelor of Arts in Media & Communication with specialisation in Animation, from Goldsmiths University of London. She is the founding director of the NGO Animae Caribe Animation Festival which is celebrating its 19th year. She recently served as Chairman of FilmTT under the Ministry of Trade and Industry, Government of Trinidad & Tobago. Together with business partner Jason Lindsay they created the first Caribbean outsourcing animation studio called Full Circle Animation Studio in Trinidad. Creating work for international studios around the world.
She has coined her interpretation of the work she undertakes as 'Digital Activism' for just as the output of the computer is intangible and cannot be placed on a shelf, so does the inspiration she provokes, hide in the emotional, social and entrepreneurial outcomes of her interventions. In 2016 she spent a month in Jamaica for an intervention project called "New Path' which used animation in prisons, funded by the Organization of American States through its Department of Public Security in Washington DC. Turning those stories of dread and despair into constructive affirmations. She gives inmates an opportunity to express their fears, their trauma, and allow them to use storytelling to change the plot.
With over 20 years in the animation and digital media industry Camille now uses the 'Heroes Journey' to rewrite the script that has kept others outside of the playing field both in the film industry and also in the play of life. Awards include the Royal Television Society Student Award 2000 – London UK, Caribbean Tales Innovation in Animation in the Caribbean Award – Toronto Canada, Trinidad and Tobago Film Festival – Pioneer in Film Award 2014 – Trinidad & Tobago and she was shortlisted for the Commonwealth Foundation Award for Women in Business. She currently runs a NGO in collaboration with CARICOM called 'The Shift Project' which is an intervention program using digital technology to bring 'at risk' teens into the 21 st century.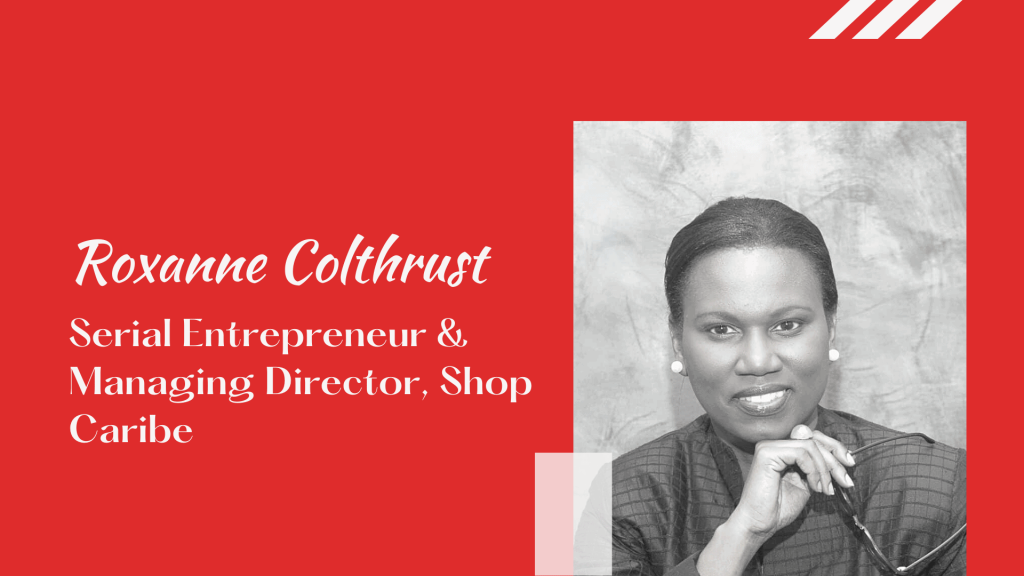 Roxanne Colthrust is a digital entrepreneur who has been involved in communications, animation, tourism and e-commerce. Over the last 20 years, she has witnessed the growth and development of digital economies with strategy level involvement in the animation sector, as a Co-Director to the Animae Caribe Festival. She has worked alongside a dynamic team at web-development & integrated communications studio SIGHTFACTORY to bring multiple corporate and private sector website into reality. In 2016, she partnered with husband and co-director Philip Colthrust to develop the tourism booking platform Destination Trinidad and Tobago (www.destinationtnt.com) which has amassed more than 500000 visitors per year. In 2020, she became the Managing Director of ShopCaribe.com, the ultimate marketplace for Caribbean-made products, with more than 150 vendors and 2000 products.