Panel Session:
Internet Resilience: Implications for Trinidad and Tobago and the Caribbean
Kim Mallalieu is Deputy Chairman of the Board of the Telecommunications Authority of Trinidad and Tobago (TATT), Principal Investigator of the Caribbean ICT Research Programme (CIRP), and senior lecturer in the Department of Electrical and Computer Engineering at The University of the West Indies, from where she conceived, developed and delivered the Master's degree in Telecommunications Regulation and Policy, MRP (Telecommunications). Dr. Mallalieu is engaged in multidisciplinary action research on context-appropriate strategies for the purposeful application of information and communications technologies (ICT) for human good; with an emphasis on building the resilience of underserved populations. As a keen advocate for gender equality for development, her works include the ITU/ETC report on Women, ICT and emergency telecommunications; and she is Vice Chair of the Advisory Board for the Network of Women (NOW) in ITUD. In other capacities she has led national, regional and international initiatives variously designed to build capacity in ICT policy, regulation, development, application and use.
Among other credentials, Dr. Mallalieu holds a Bachelor's degree in Electrical Engineering from MIT and a PhD in Electrical and Electronic Engineering from University College London. She is a licensed amateur radio and GMDSS short range operator, and member of Radio Emergency Associated Communication Teams(REACT). She has a rich service portfolio, having sat on several commissions, committees and panels at regional, national and institutional levels in operational as well as advisory roles. She is a Fulbright Fellow and the recipient of local, regional and international teaching and research awards, and other awards of distinction.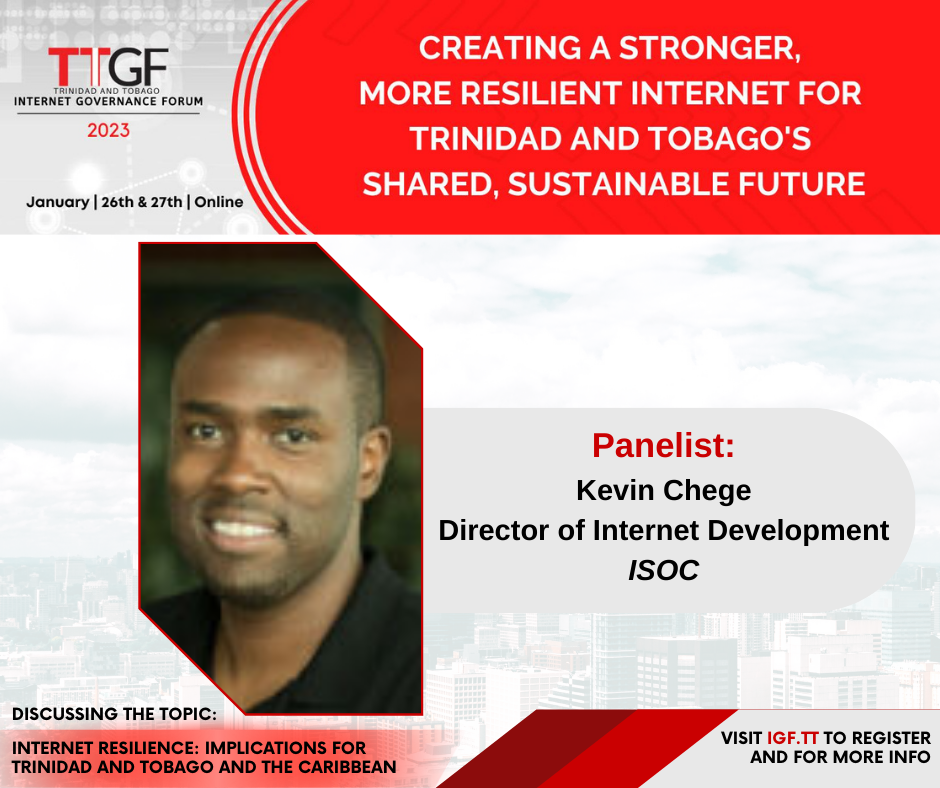 Kevin is the Director – Internet Development at the Internet Society. He is currently engaged in several projects at ISOC related to Routing Security, technical capacity building, building communities of practice, and Internet measurements. He also helps design technical online teaching content to train network engineers and helps out as an instructor at various NOGs and NRENs in Africa. Kevin has a MSc in Information Security, and is both a CISSP and CIPM certification holder. He is based in Nairobi, Kenya.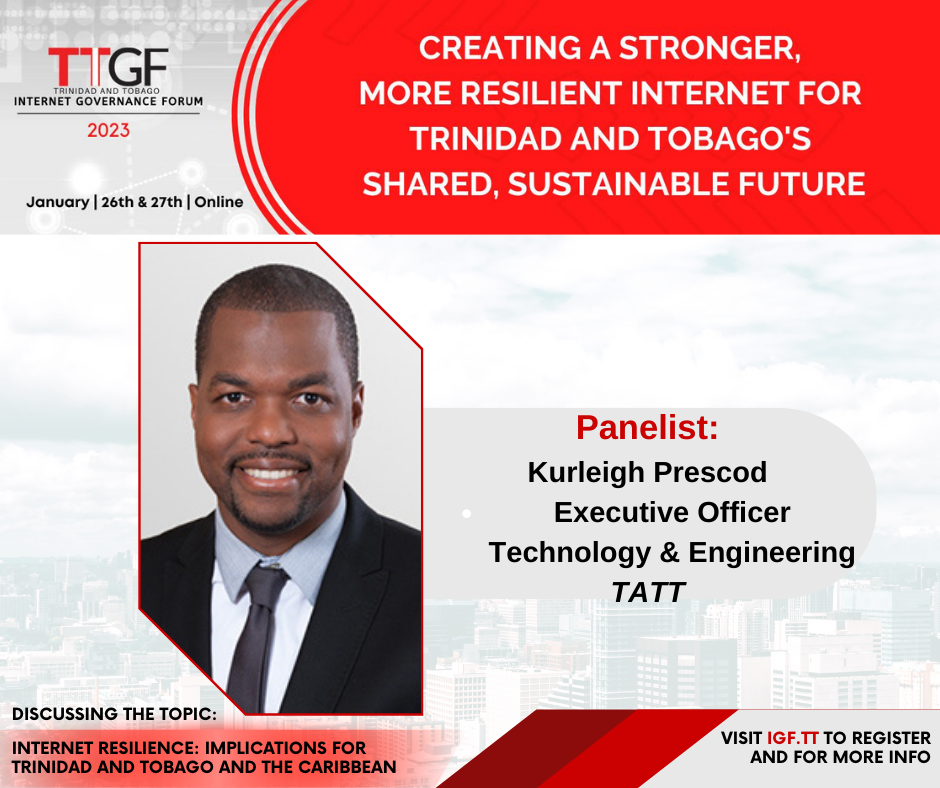 Kurleigh serves as the Executive Officer Technology & Engineering at the Telecommunications Authority of Trinidad and Tobago, with over twenty years of leadership experience in technical and general management roles in the telecommunications sector for both regulatory and service provider organisations across various markets in the region, including Trinidad and Tobago, Curacao, Barbados and the Windward Islands. He also was as a founding member of the Grenada IXP GREX in 2010, and was the inaugural Chairman of the Trinidad and Tobago IXP TTIX from 2013 to 2022. Kurleigh holds a B.Sc in Electrical & Computer Engineering from UWI and an M.Sc. in Telecommunications from the University of Maryland. He is an avid cricket fan and music lover, and lives with his wife Tricia and their two sons in central Trinidad.
Brent McIntosh is an Internet Service Provider and Network Infrastructure professional with expertise in Internet Protocol (IP) technologies. He considers himself an IPv6 and Internet Exchange Point (IXP) Evangelist, and is a IP Network Architect/Consultant, as well as a certified IPv6 Forum Engineer and Trainer (Gold).
Brent recently became an IPv6 Forum Hall of Fame Inductee for IPv6 evangelism and is continuing to support IPv6 deployments through IXPs, specific training and customer network solutions.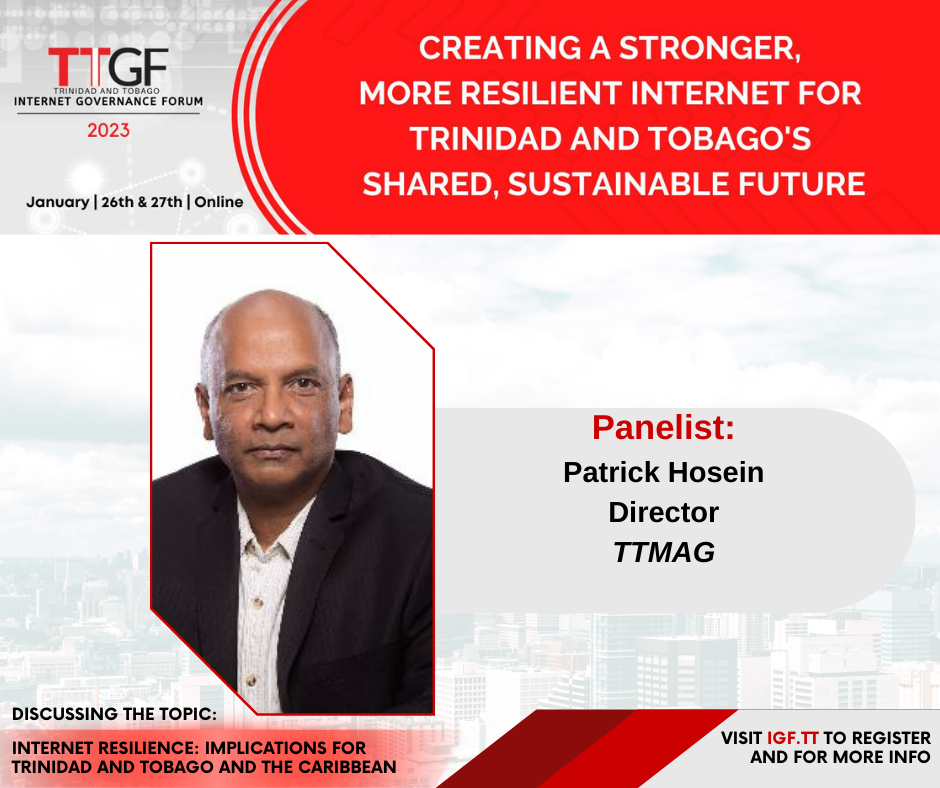 Patrick is a director on the TTMAG board where he represents the interests of the Trinidad and Tobago Network Information Centre (TTNIC). He attended the Massachusetts Institute of Technology (MIT) where he obtained five degrees including a PhD in Electrical Engineering and Computer Science. He has worked at Bose Corporation, Bell Laboratories, AT&T Laboratories, Ericsson and Huawei. He has published extensively with over 100 refereed technical journal and conference publications and holds 40 granted and 42 pending patents in the areas of telecommunications and wireless technologies.
Patrick was nominated for the Ericsson Inventor of the Year award in 2004, was the Huawei US Wireless Research Employee of the year for 2007, was a NIHERST icon in Science and Technology in 2013, is a 2015 Anthony Sabga Caribbean Laureate for Science and Technology and was inducted into the St. Mary's College Hall of Fame in 2015. Patrick is presently the administrative and technical contact for the TT top level domain, CEO of the TTNIC and a Professor of Computer Science at the University of the West Indies. His present areas of research include radio resource management, pricing for 5G cellular networks, Data Analytics and Operations Research. For more information visit http://hosein.tt.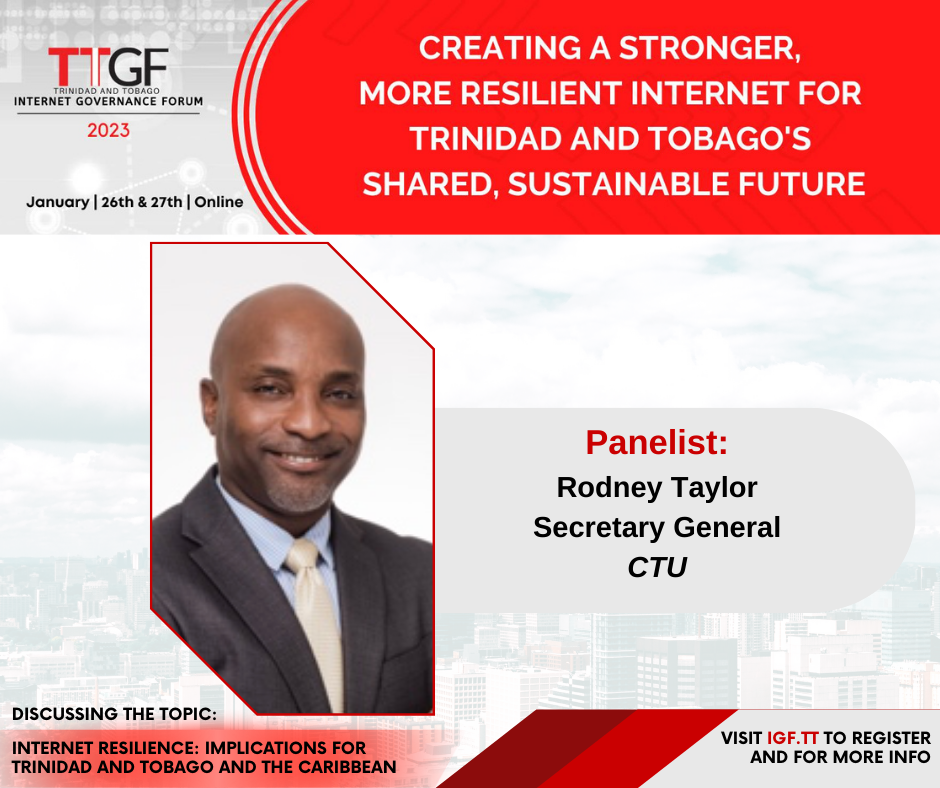 Mr. Rodney Taylor, a national of Barbados, was appointed as CTU Secretary General from 1st March 2021.
He was formerly the Chief Digital Technology Officer with Barbados' Ministry of Innovation, Science and Smart Technology (MIST), where he was the technical lead on Barbados' digital transformation, improving public sector service delivery through strategic use of innovation, science and SMART technology.
Mr. Taylor's over 20 years of professional experience includes management of the Information Systems Unit in Barbados' Ministry of Foreign Affairs and Foreign Trade and its overseas missions. He also previously served between 2010 and 2014 as the Business Development and Operations Manager at the CTU, where he worked with regional governments in the development of policies to govern information and communications technology (ICT) and represented the region in many international ICT conferences. He also led the work to operationalise the CTU's Caribbean Centre of Excellence, to offer consultancy services to the Member States and others.
Mr. Taylor is an advisor on Internet Governance and has published research on e-Commerce diffusion in small island developing states in the Journal of Information Systems for Developing Countries. He is an Ethical Hacker and a founding member and former Chairman of the Barbados Chapter of the Internet Society, an organization whose aim is to promote the open development, evolution, and use of the Internet for the benefit of all people throughout the world.
Mr. Taylor holds a Masters in Management and Information Systems from the University of Manchester, UK, and a Post Graduate Diploma in Public Sector Management from the University of the West Indies.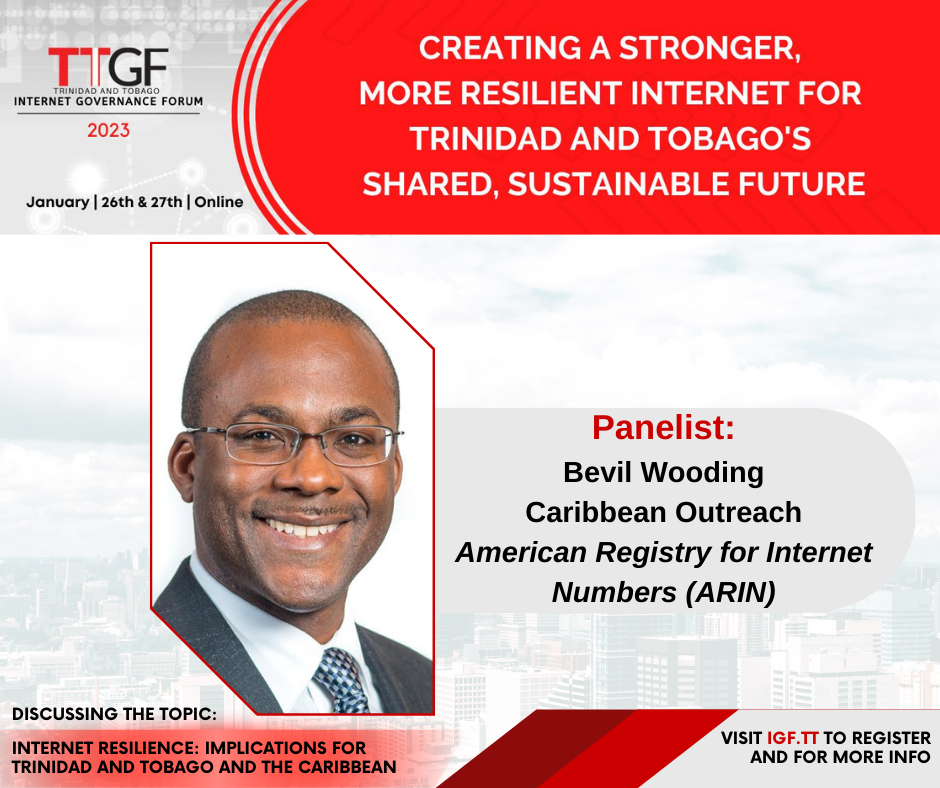 Mr. Wooding is the Director of Caribbean Affairs for the American Registry of Internet Numbers (ARIN) and a globally recognized technologist and development specialist. He also serves in an advisory capacity to several Caribbean governments and regional institutions, including the Organization of Eastern Caribbean States (OECS), Caribbean Telecommunications Union (CTU) and Caribbean Court of Justice (CCJ).
His various responsibilities all relate to development of the regional digital economy and information society. He has over 25 years of experience in pioneering information and communication technology (ICT) solutions and promoting the use of the Internet for development. He leads various regional and international initiatives focused on ICT-based innovation, education, public policy, regulation and Internet governance, Internet exchange point (IXP) development and cybersecurity.
Mr. Wooding is a co-founder of the Caribbean Network Operators Group (CaribNOG), a volunteer-based association for computer engineers and network administrators and the Caribbean Peering and Interconnection Forum (CarPIF), a community for network engineers, peering coordinators and Internet content delivery organzations.
In June 2010 Mr. Wooding was appointed as a Trusted Community Representative by the Internet Corporation for Assigned Names and Numbers (ICANN) and entrusted as a Recovery Key Share Holder for the Domain Name Server Security Extensions (DNSSEC) protocol that protects domain names on the Internet. His work has been recognized by accolades including:
The 2013 Latin American and Caribbean Internet Addresses Registry (LACNIC) Lifetime Achievement Award.
The 2017 Caribbean American Heritage Award for outstanding contributions in the field of Science and Technology.
In 2019 the Caribbean Internet Governance Forum Excellence in Internet Governance Award for contributions to technology education, youth outreach, Internet development in the region.
Panel Session:
Future-proofing ICT in Education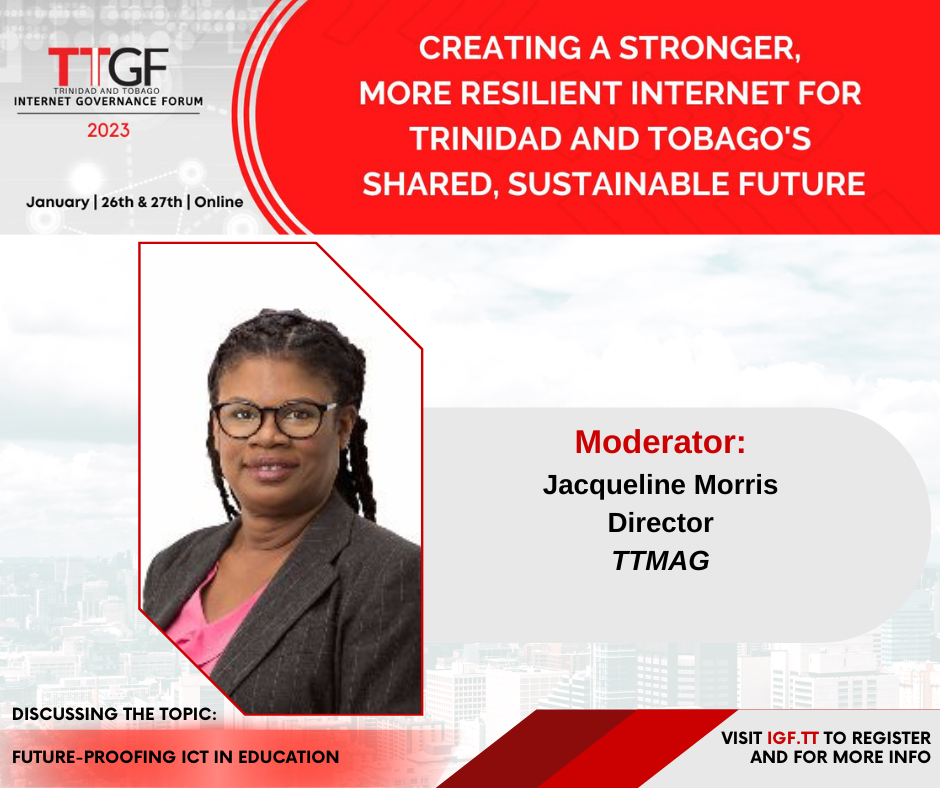 Civil Society Representative from Soroptimist International of St. Augustine.
Jacqueline Morris is an experienced tertiary educator, researcher, educational technologist, and instructional designer, whose focus is on the intersection of the Internet and Learning. She currently is the e-learning manager at the Judiciary of Trinidad and Tobago.
During her many years of service as a teacher-educator at the University of Trinidad and Tobago, she taught students in the fields of Education Technology and Instructional Design, at the Centre for Education Programmes. She has also lectured at the UTT in Process Engineering and at the UWI in Management Information Systems and Technology in Tourism. Her current research interests focus on online learning strategies, processes, and the psychology of online teaching and learning. She can also get her hands dirty with regard to creating online content, having also worked for multimedia production and live video projection firm. While there she directed and edited many multiple-camera live concert video productions, and has worked with names like John Legend, Rihanna, Lionel Richie, NeYo, Beenie Man, Shakira, Diana Ross, and Machel Montano. She is a Certified Moodle Educator, and a certified Microsoft Innovative Educator.
In 2003 she was appointed by the Secretary-General of the UN to a global panel of experts on Internet Governance. Since then, she has been active in the fields of Internet Governance and ICT policy and has held several positions in International Policy organisations such as ICANN. She is currently the Policy Chair for the Non-Profit Constituency at ICANN. , and the Vice-Chair of the local Chapter of the Internet Society. She was recently voted in as a Director of the TTMAG.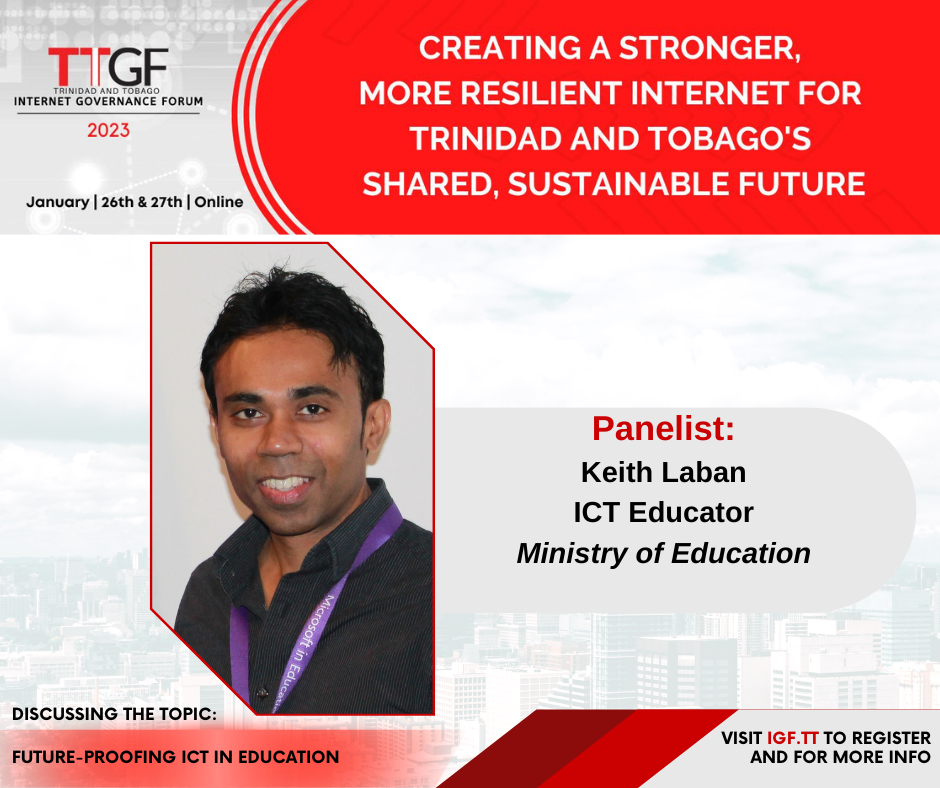 Keith Laban is an ICT educator for the past 20 years, an innovator and founder of Startl, the Caribbean's first Mixed Reality company, where they developed the region's first Augmented Reality platform. He is also the founder of SoftDev Interactive, a company highly focused on the development of Game-based learning systems and innovative Web 2.0 and Web 3.0 ICT solutions for Schools and Businesses.
Keith is a Microsoft Innovative Educator Expert, an Educational technology specialist and a Teacher Trainer for the Ministry of Education, Trinidad and Tobago, the Commonwealth of Learning, Notesmaster International and UNESCO. Mr Laban also worked with several large regional organizations such as the OAS and OECS, on various progressive ICT projects.
Keith has won many local and international ICT in Education awards and represented Trinidad and Tobago at the Microsoft Regional and Global Education Forums, in countries such as the US, Chile, Peru and Spain, where he presented on the use of innovative educational tools and strategies for 21st century learning.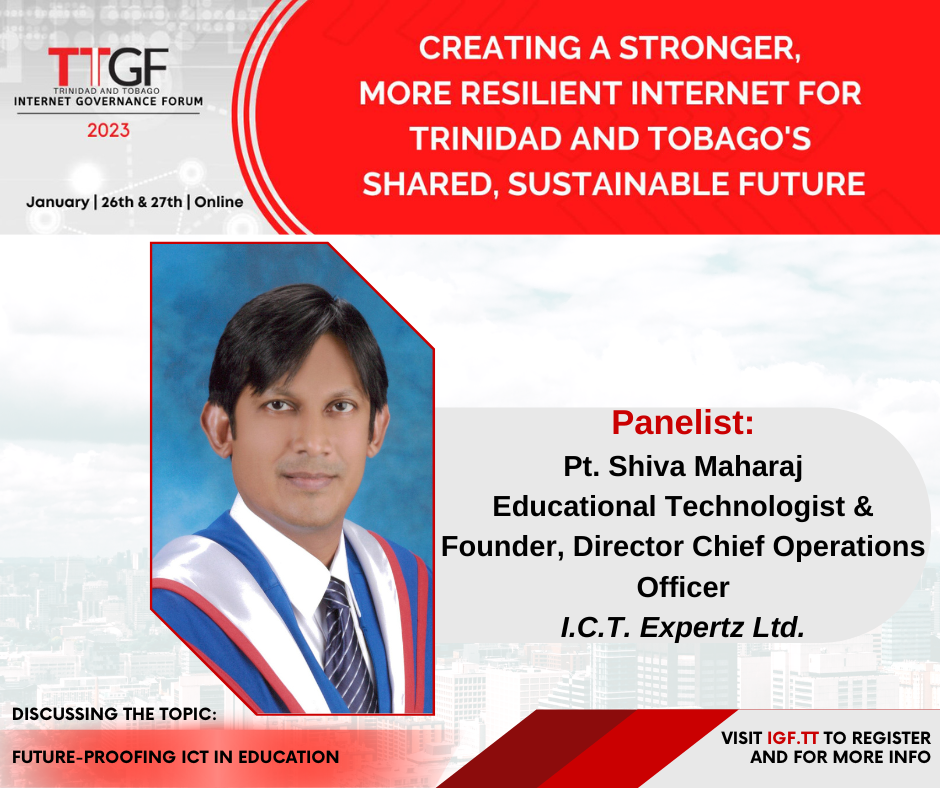 Pt. Shiva J. Maharaj, also known as the 'Digital Guru' is a local pioneer in Educational Technology, Digital Literacy and Digital Citizenship.
He was recognized in a two-page Ministry of Education publication, for over two decades of influencing and shaping Educational Technology integration in Primary and Secondary schools throughout Trinidad and Tobago. In 2022, Pt. Maharaj was commissioned with a team of Caribbean authors to write a series of Cambridge Primary Computing books for teachers and students to be distributed worldwide.
Pt. Maharaj graduated as part of the first cohort with a Masters of Arts in Leadership in Technical Vocational Education and Training and Workforce Development from The University of the West Indies after having attained a Bachelors of Education degree from the University of Trinidad and Tobago. He has also accumulated numerous International Industry-based qualifications and certifications in Telecommunications, Information Technology, Computer Studies., from global institutes such as Google, NCC Education, Computer Technology Industry Association (CompTIA) and Tata Infotech (India).
On his website, www.DigitalGuru.Tips has been advocating for twenty-first century competencies such as Mobile Literacy, Digital Citizenship and End-user Cybersecurity competencies through certifications and partnerships with leading institutes; the University of Washington, Common Sense Education and Harvard Graduate School of Education and Logical Operations, respectively.
On a global scale Trinidad and Tobago is represented by Pt. Maharaj and his company, I.C.T. Expertz Limited, as the Head of the Trinidad and Tobago Safer Internet Day Committee, and Champions for National Cyber Security Awareness Month and Data Privacy Day.
He has presented papers and presentations at a number of International conferences hosted by universities and government agencies on topics related to the Digitalization of various aspects of life including Education, Culture and Society.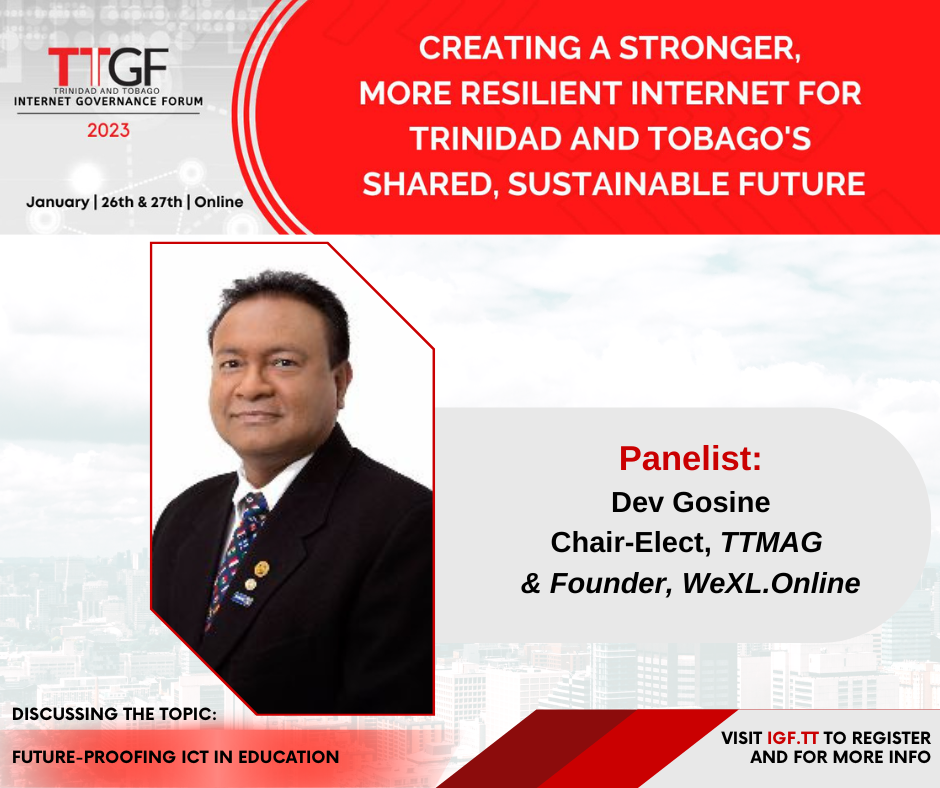 Civil Society Representative from the Rotary Club.

Dev Gosine graduated from the University of the West Indies with a BSc in Pure Physics and Applied Physics.
He has held the following offices in Rotary: President (two terms), Assistant Governor, and District Secretary of Rotary District 7030. He is part of the District Training team with the responsibility for training Rotary Presidents and Assistant Governors for their terms in office.
He is very involved in Amateur Radio using voice and all modes of digital communication. He is also very active in the Orbiting Satellites Carrying Amateur Radio (OSCAR). He has built satellite tracking systems to track the polar orbiting satellites, including the Space Shuttles, and CAT systems to correct tranceiver's receive and transmit frequencies for Doppler Shift.

He has had several historic voice contacts with astronauts on board several Space shuttle missions even with students from Naparima College.
He is also engaged in low power (less than 10 W) point to point high frequency world wide digital communications coupled with remote station operation.
He is a member of the Management Committee of Trinidad & Tobago Amateur Radio Society
Dev Gosine is a retired Vice Principal of Naparima College, San Fernando, having been an educational professional for the past four decades.
He is also the founder of WeXL.Online
In 2015, he transformed Naparima College to a Smart School.

He has spent hundreds of hours in Professional training for hundreds of teachers preparing them to deliver the curriculum using online modalities during and post COVID 19 pandemic.
One such program can be accessed here… Future-Proofing Educators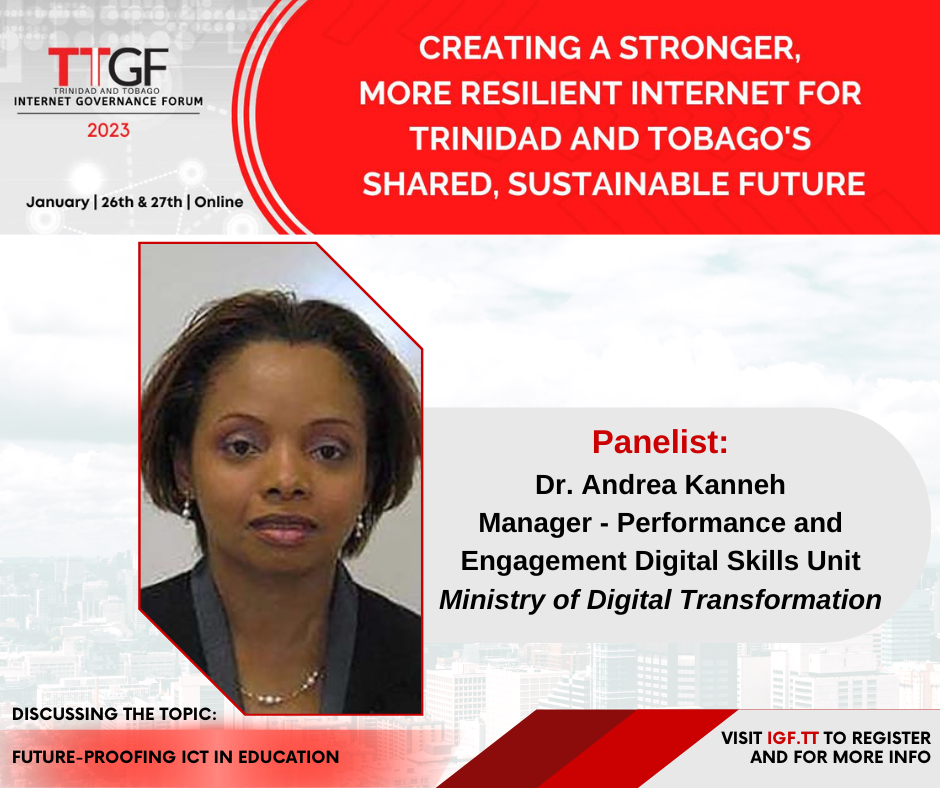 Dr Andrea Kanneh is the Manager – Performance and Engagement – Ministry of Digital Transformation, in the Digital Skills Unit
The mandate of the Ministry is to facilitate a new way to address the end-to-end consumption and delivery of goods and services to customers using appropriate digital technology.
Dr Andrea Kanneh has always been passionate about empowering others.
She has been actively involved in education, leadership and management training for over twenty (20) years.
Dr Kanneh has also been an External Evaluator with Accreditation Council of Trinidad and Tobago (ACTT) since 2012.
Areas of expertise and experience include Leadership and Management Life coaching and training, Project Management, Research Ethics, and Information Technology.
Qualifications include Doctorate in ICT, Master of Science in Research Ethics, Master of Business Administration, Leadership and Life Coaching Certification, and Project Management Professional Certification.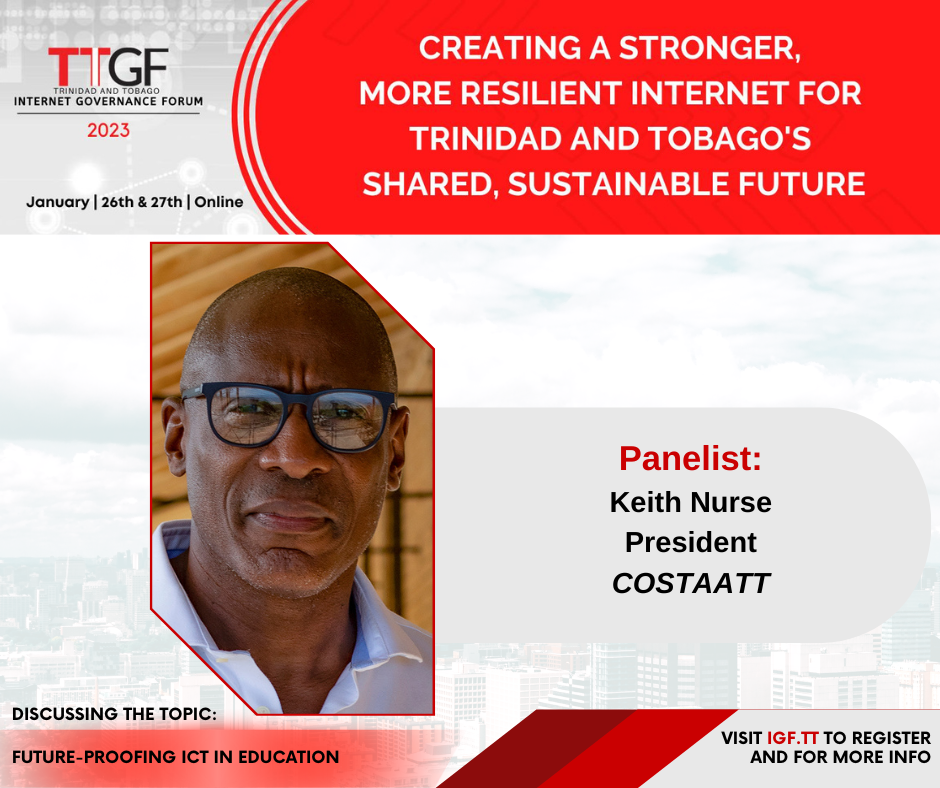 Dr. Keith Nurse is the President of the College of Science Technology and Applied Arts Trinidad and Tobago. He is the former Principal/CEO of the Sir Arthur Lewis Community College, Saint Lucia. He has worked as Senior Economist and Advisor on Structural Policies and Innovation at the OECD Development Centre in Paris. He is the former World Trade Organization Chair at the University of the West Indies where he served in multiple capacities on each of the three land-based campuses.
He is serving his third term as an expert member of the UN Committee for Development Policy. Dr. Nurse is the Chair of CaribbeanTales World-wide Distribution Inc. and co-founder of the CaribbeanTales Incubator. He is the executive producer of the docudrama "Forward Home: The Power of the Caribbean Diaspora" (https://vimeo.com/56997742).
He has worked as a consultant to Governments and international, and regional agencies, such as the OAS, South Centre, IDB/MIF, Commonwealth Secretariat, CARICOM Secretariat, Compete Caribbean, Caribbean Export, UNESCO, UNECLAC, UNIDO, IDRC, ICTSD, FOCAL, the Medical Research Council UK. He
has served as an advisor to the WTO Chairs programme, as the Inter-American Institute for Cooperation in Agriculture, the ACP/IOM Intra-regional Migration Observatory, the OAS Inter-American Cultural Policy Observatory, and the OECD Knowledge Networks and Markets project and the Technology Governance programme at the University of Tallinn, Estonia.
Dr. Nurse has worked as a researcher and consultant to governments and international and regional organizations around the world and has published over 100 scholarly papers and articles on a wide array of issue areas such as trade policy and services, industrial policy and innovation governance, creative industries and digital economy, tourism and cultural heritage, migration and diasporas, gender and economic restructuring, climate action and sustainable development and disaster risk reduction.
Panel Session:
Digital Acceptance, Transformation and Acceleration for T&T – What does DATA mean?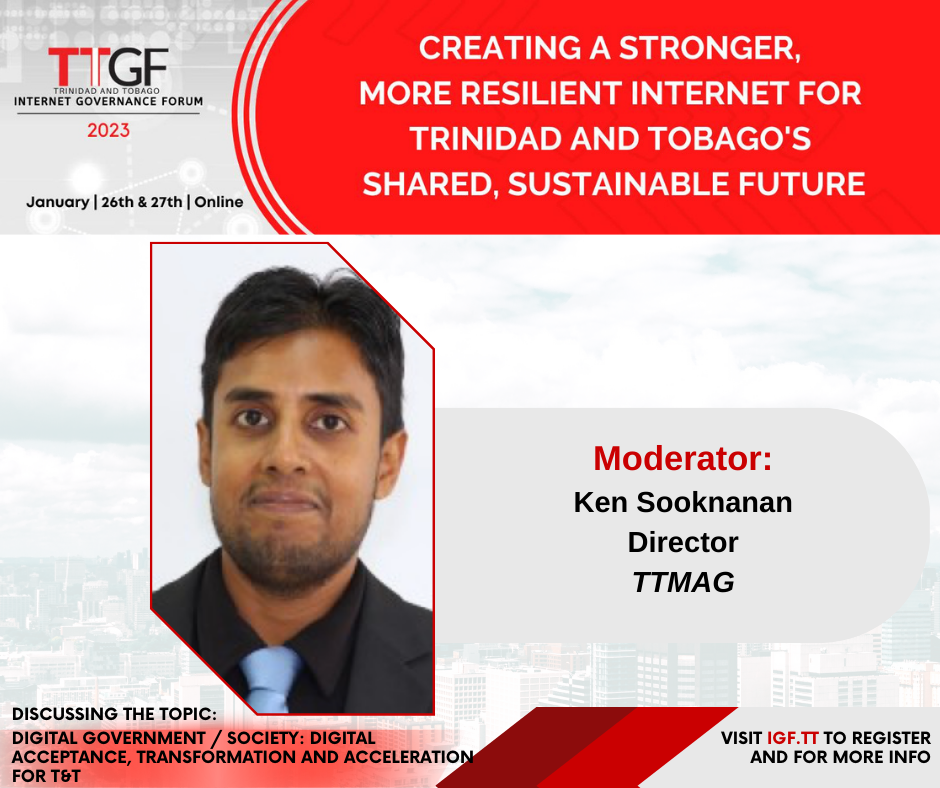 Ken Sooknanan is an Assistant Professor in the Department of Information and Communication Technology (ICT) at the University of Trinidad and Tobago since May 2015.
He has over twenty years of experience in the areas of ICT and Electrical and Computer Engineering (2003 to present). Ken started his career as an Electrical Engineer at ADeB consultants Trinidad,, where he designed the electrical and ICT infrastructure for many commercial and residential buildings. After four years at this firm, he moved onto an oil and gas-based company, Fugro Inc., in Houston, Texas, where he worked for another four years as a Navigation Engineer; designing and installing GPS systems on numerous deep water drilling vessels throughout the world.
Ken holds a PhD (Trinity College, Dublin, Ireland), MSc. (The University of the West Indies-UWI) and a BSc. (UWI) in Electrical and Computer Engineering. He has written numerous scientific papers that are published in international journals and conferences. His areas of specializations include Data Analytics, Artificial Intelligence and Computer Vision; and some of his interests are football, cricket, and swimming.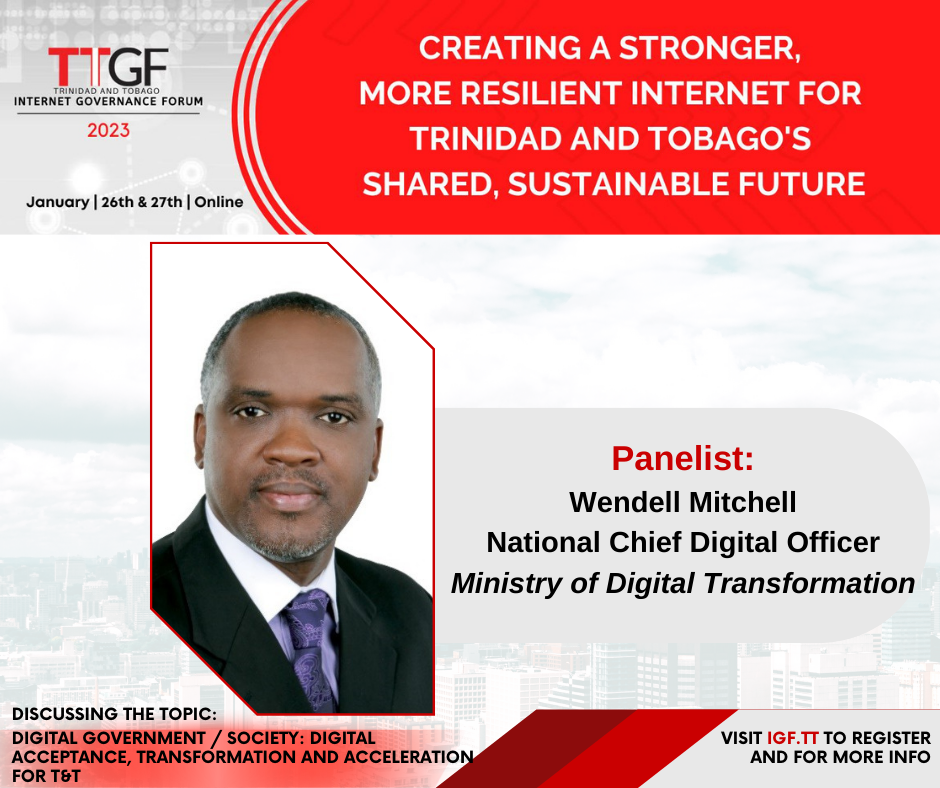 Wendell Mitchell is the National Chief Digital Officer in the Ministry of Digital Transformation, a position he has held since August 2022. He has over thirty years of experience in the areas of ICT and Telecommunications (1990 to present). Wendell started his career at BWIA (now Caribbean Airlines) before moving on as a Telecommunications Engineer at TSTT for approximately seven (7) years. He then moved to the Finance Industry at RBTT (now RBC) where he spent close to 10 years and in the process occupied several middle and senior management positions in IT, the last position being Assistant General Manager of Group IT Strategy and Planning. Subsequently, Wendell headed up several IT units including the AVP – IT for Trinidad and Tobago Unit Trust Corporation, CIO for Guardian Group, CIO at First Citizens Bank, and CIO at Bermudez Group Services. In these positions, Wendell has gained tremendous experience in IT Governance, Digital Transformation, Cybersecurity, Agile Development, and Strategic planning.
Wendell holds a Master's in Engineering Management (distinction) and a BSc. In Engineering specialising in Computer and Communication systems. He also holds a certificate in management from ROYTEC/AMA and is a past student of Fatima College.
Wendell holds several certifications including Board of Engineering certification, ITIL, COBIT, and Change Management. He has also attended numerous seminars and programs in the IT and Finance industries.
His interests are Church Work, Football, Cricket, Reading, Pool, Golf and Music and he writes Calypsoes in his spare time.
Wendell is also a Local Preacher attached to the Methodist Church and a Member of Staff at Arthur Lok Jack GSB where he is a student advisor and second marker.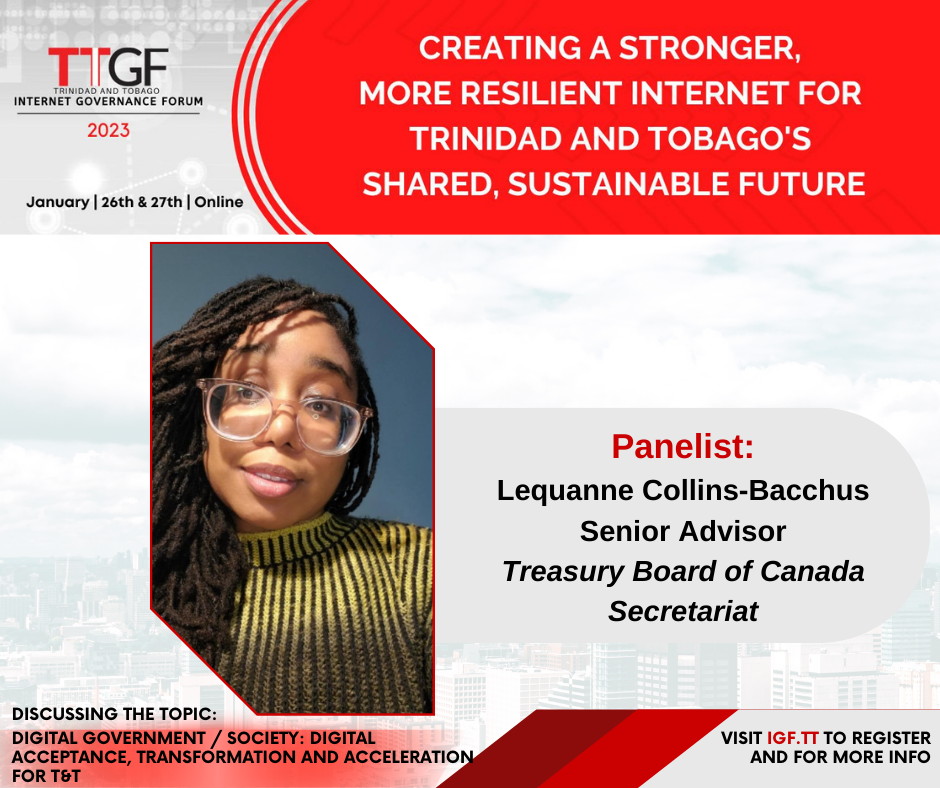 Lequanne Collins-Bacchus is a Senior Advisor at the Office of the Chief Information Officer in the Treasury Board of Canada Secretariat working on files related to the D9.
Her past work in digital transformation includes being a 2019 Code for Canada Fellow and Product Manager at the Canada Energy Regulator; advising the Deputy Minister for Digital Government on Ontario's first Data Strategy at the Ontario Digital Service; and researching artificial intelligence at OCAD University. She has spoken about and exhibited her work in London, UK at the Mozilla Festival; in Tallinn, Estonia at Smart-Up BSR; in Toronto, Canada at the Toronto Offsite Design Festival, Make Change Conference, Open Government Conference, and Youth Impact Summit at Mars Discovery District, to name a few.
Lequanne has pursued graduate studies in Estonia, focusing on Technology Governance and Sustainability as well as courses at Harvard University, Extension School. She is passionate about human-centred, ethical, co-created digital transformation.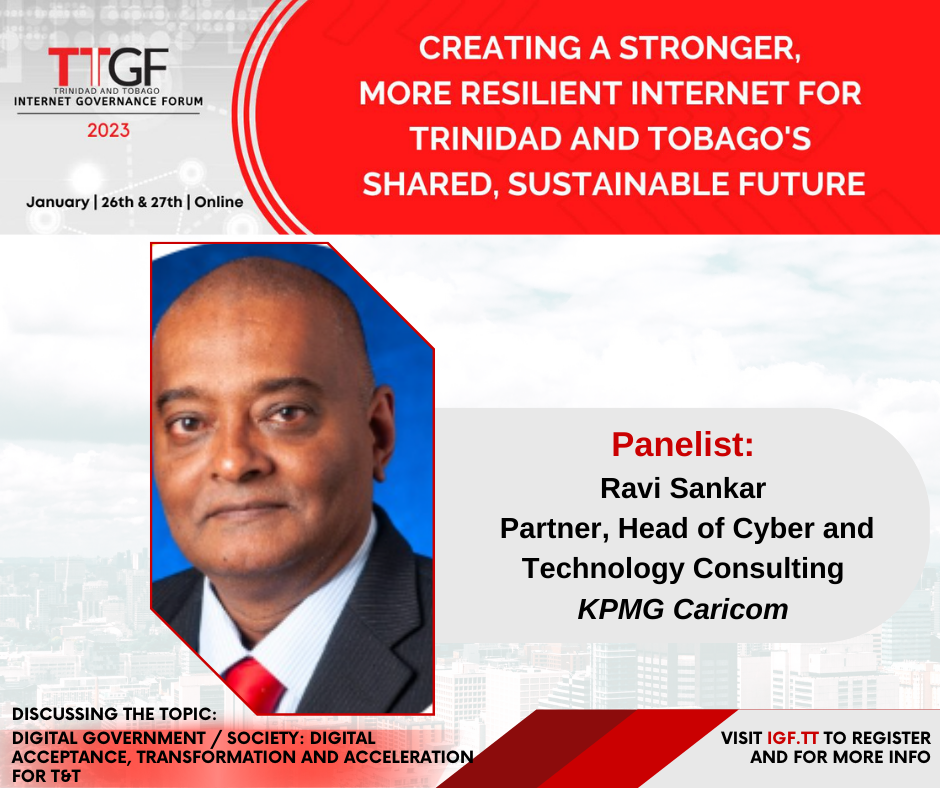 Ravi Sankar is a Partner and the Head of Cyber and Technology Consulting for KPMG Caricom, an integrated KPMG economic network within the Caribbean, with 23 Partners, 16 Directors, 120 Managers and over 1,240 staff.
He is also the Microsoft Alliance Lead. Ravi has over 15 years' experience in the Caribbean and Europe in the areas of Internal Audit, Business Development and Information Technology Security.
In his most recent role as Chief of Information Security Officer for a European firm, Ravi was responsible for developing recommendations to improve the clients'/firms' internal control structure(s).
He has intimate and in-depth knowledge of General Data Protection Regulation (GDPR) and has conducted training sessions to ensure that all staff stay informed of privacy laws and regulations.
Panel Session:
The A.R.T of Cybersecurity: Attacks, Risks, and Threats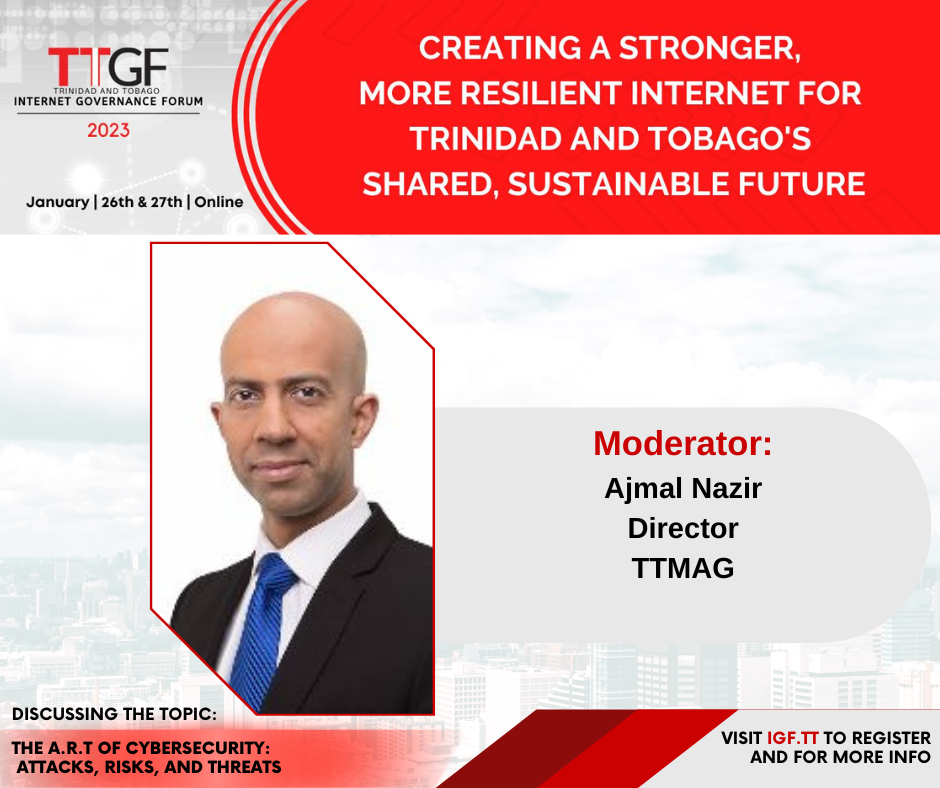 Ajmal Nazir graduated in Computer Systems Engineering (Beng) from City University, London. Joined Goldman Sachs in their Enterprise Technology division being responsible for real time business critical trading systems.
Ajmal has been responsible for the technology in Green Dot. He specialises in all facets of digital wireless communications and signal processing, both low and high powered digital RF transmission and interference management. Ajmal has also implemented business process mapping and automation.
He has been part of a number of technical and other working committees with TATT, he has worked with the Electrical Department of UWI and regularly gives presentations at regional telecom conferences. He has very strong legal and regulatory appreciation. Currently hold the Vice Chair for TTIXP as well as the Director of Strategy and Growth for Green Dot across the Caribbean.
He is also a member of the Caribbean Corporate Governance Institute.
The A.R.T of Cybersecurity: Attacks, Risks, and Threats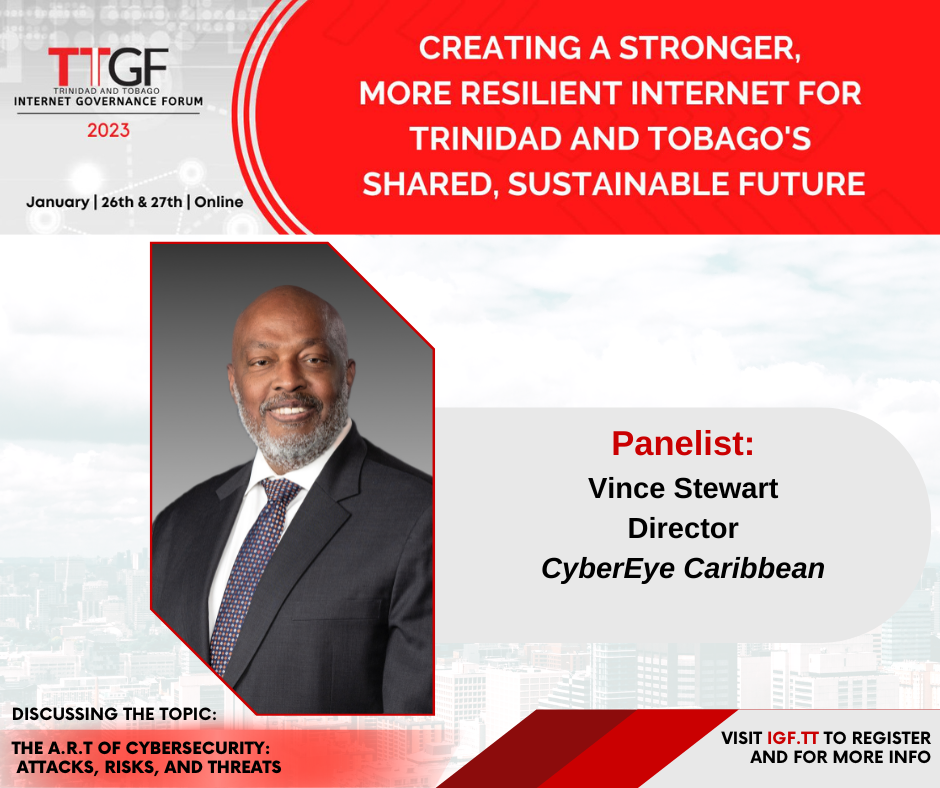 Retired Lieutenant General Vince Stewart, is a Director for CyberEYE Security Group, based in Port of Spain, Trinidad. Vince is a focused and results-oriented leader with more than 30 years' experience in all aspects of cyberspace operations, intelligence, and counterintelligence. His expertise is in developing high performance teams and implementing innovative strategies, plans, and initiatives while driving process improvements to attain objectives and goals.
Vince's professional experience includes:
Retired Lieutenant General Vince Stewart, USMC is a Non-Executive Board Member for Ankura, based in Washington, DC.
Lockheed Martin Corporation [NYSE: LMT] board of directors.
Founder and CEO of Stewart Global Solutions: Vince led an international consulting company, focused on issues pertaining to cybersecurity, geopolitical intelligence, strategic planning and crisis management.
Deputy Commander, United States Cyber Command: Vince provided strategic leadership to more than 10,000 personnel executing full spectrum cyberspace operations, including securing the Department of Defense's Information Network (three million users, 140 countries, 15 thousand networks, six thousand locations). He planned and organized the Department of Defense's efforts to secure the nation's critical infrastructure and key resources against malicious cyber threats. He also established policies and obtained authority for conducting cyberspace operations.
Director, Defense Intelligence Agency: Vince effectively managed a global organization of over 16,000 personnel operating in more than 100 countries, delivering intelligence on the military capabilities of potential adversaries. He provided intelligence briefings to the President of the United States and National Security staff regarding global emerging threats and opportunities, as well as regular global threat briefings to congress to inform policies and budget decisions impacting the Department of Defense. In this role, Vince also served as the principal advisor to the Secretary of Defense and the Chairman of the Joint Chiefs of Staff on military intelligence-related matters.
Commanding General, Marine Forces Cyberspace Command: Vince served as the principal cyber advisor to the Commandant of the Marine Corps. He was responsible for the sustained operation and maintenance of the Marine Corps' global information enterprise networks.
Director of Intelligence, United States Marine Corps: Vince succeeded in initiating the Marine Corps Intelligence Surveillance and Reconnaissance Enterprise (MCISR-E) connecting over 10,000 intelligence professionals, providing real-time intelligence support to deployed operational commanders in utilizing all intelligence assets and keeping continuity on targets of interest and high level of expertise. Additionally, he defined and coordinated intelligence sharing activities with foreign partners.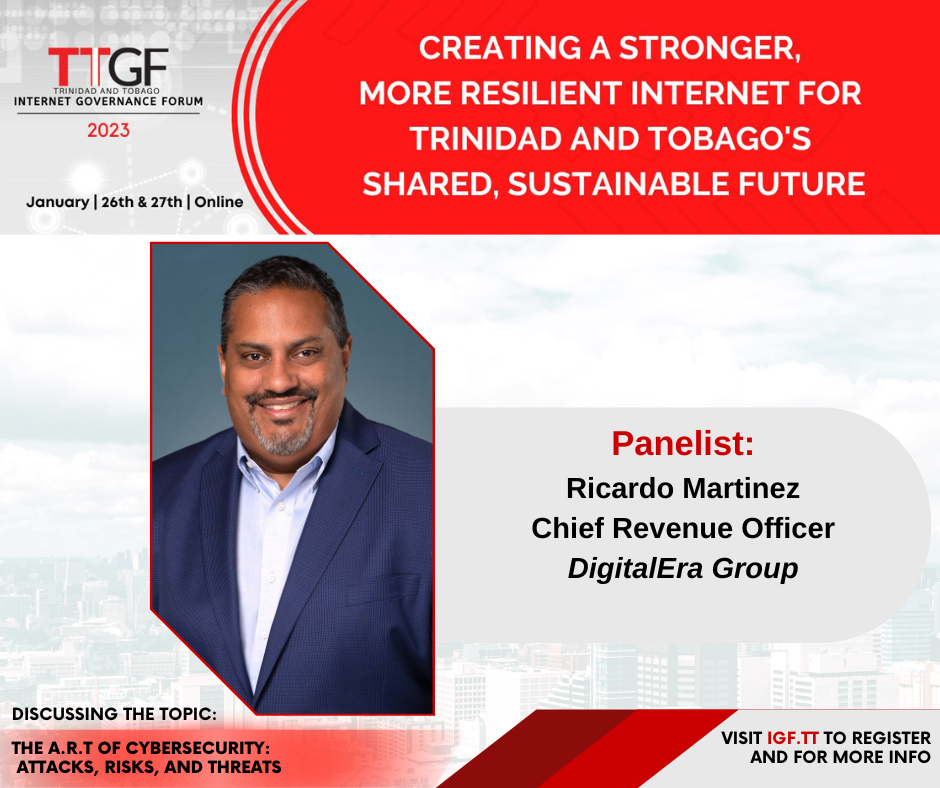 Ricardo Martinez currently serves as Chief Revenue Officer of DigitalEra Group, a premier Cybersecurity firm dedicated to providing cybersecurity solutions and services to businesses, education and governmental agencies throughout the US and Latin America.
Ricardo is responsible for strategic consulting, including business plan & sales strategy development. Advising on business structures, defining sales compensation plans, and selecting GTM Vendors for Latin American business and South Florida.
With more than 18 years of experience, he has extensive knowledge in all aspects of business development, channel recruitment, channel enablement, international business, business intelligence and project management. Ricardo has a proven track record in the Americas IT Security market working for global companies. Prior to DigitalEra, he served in key management roles at Tenable and McAfee where he developed a strong expertise in establishing and leading successful sales and channel teams that consistently overachieved goals.
Ricardo holds a Master's in business Administration and Management from the University of Quebec. He currently lives in Dallas, Texas and enjoys spending his free time travelling with his wife and 3 children.
Expertise:
Adopting corporate initiatives and driving them out into the field.
Building out Channel Organizations by recruitment, enabling and taking partners through to revenue.
Developing dashboards that align with business initiatives and provide business intelligence.
Mr. Anthony Peyson is an Information Communications Technology (ICT) Consultant and Entrepreneur with over 25 years of industry experience. He has held various ICT positions within major companies in the Finance, Energy and Telecommunications Industries. He is currently serving as Deputy Chairman of the Trinidad and Tobago Electricity Commission (T&Tec) and was a Director of The National Information and Communication Technology Company (IGOVTT).
An accomplished ICT professional who has been successful in developing and implementing information security, risk strategies, programs and IT-Enabled projects.
Mr. Peyson has been a member of ISACA since 2012 and is also a member of the Institute of Electrical and Electronics Engineers (IEEE), the Association of Certified Fraud Examiners (ACFE), the International Information System Security Certification Consortium (ISC)², and the EC-Council.
Being passionate about the Cybersecurity field and mentoring others, Anthony has volunteered to start a Caribbean Chapter of the International Information System Security Certification Consortium (ISC)². As President of the (ISC)² 's first and only regional chapter, he will strive to inspire and influence new generations of Cybersecurity professionals from the Caribbean region and beyond. In 2022, Anthony and his business partners founded DAB Global Technologies LLC (Utah) and Moms Who Code (Utah) , a non-profit Tech Start-Up geared towards producing a Tech workforce consisting of mostly women.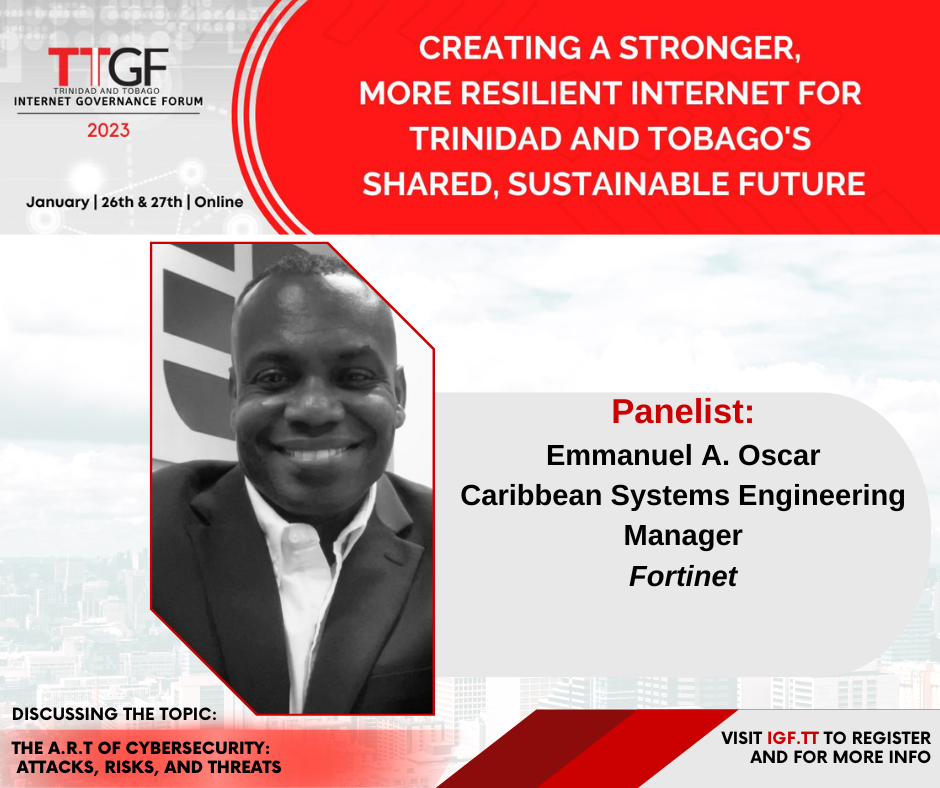 Mr. Emmanuel A. Oscar is the Systems Engineering Manager for the Caribbean at Fortinet.  He is responsible for managing a team of Cyber Security Systems Engineers throughout the Caribbean. Emmanuel is a passionate security practitioner with over 15 years of security experience and enjoys all aspects of security. He received his MSc Information Assurance from Capitol University and BE in Mechanical/ Aeronautical Engineering from Pratt Institute and holds the following industry certifications NSE8, CISM, CISSP, and ISSAP