Panel Session 1
Implications for Trinidad and Tobago and the Caribbean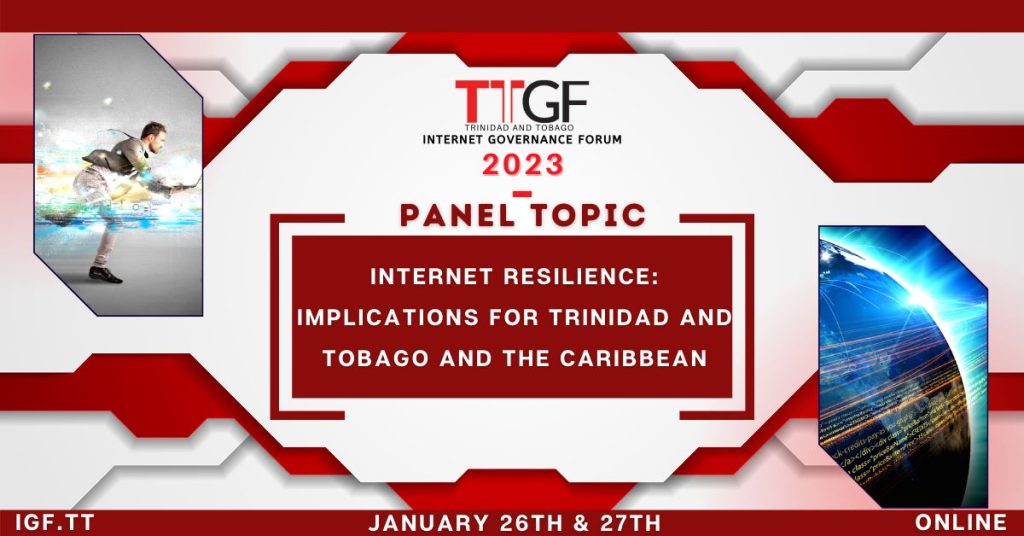 This session explores various dimensions of building internet resilience in Trinidad and Tobago as well as the Caribbean at large. It kicks off with insights from the Regional Internet Registry for Africa (AFRINIC) / Internet Society (ISOC) project, Measuring Internet Resilience in Africa (MIRA). It then focuses on the role of regulators and Internet exchange points (IXPs) in Internet resilience: the former drawn from the Trinidad and Tobago country case, and the latter from multiple country experiences around the Caribbean. A strategy, and associated platform, to monitor and fill gaps in traditional DNS mappings, is offered as an example of low-resource complementary resilience-building strategies. Perspectives on mechanisms to develop and operationalize a regional framework for internet resilience are shared; as are other recommendations to bolster Internet resilience in the Caribbean.
The session comprises a series of lightning presentations followed by discussions prompted by participants; closing off with a capstone question posed to panelists.
Panel Session 2
Future-proofing ICT in Education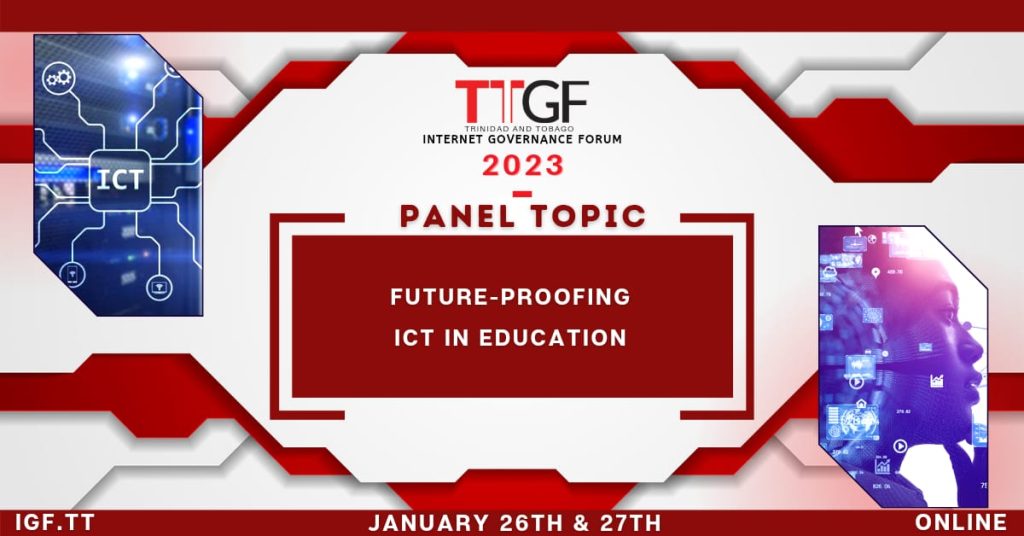 The Covid-19 pandemic ushered in the need for educators and students to utilise information communication technology (ICT) for online classroom interaction.
While this was the state of play, one of the major issues at hand which was never formally addressed was the need to retool our educators in the effective and efficient use of ICT in the classroom thereby overcoming their phobias to the use of this technology.
As protective measures relaxed and both educators and students returned to the classroom, so too did the enthusiasm of both educators and policymakers to utilise ICT in the delivery of the curriculum.
Future-Proofing ICT in education has many benefits both for the educator and the student. Some of these may include but are not limited to:
The efficient and effective use of instructional time;
Classroom management and control;
Individualized interaction with students;
Instructions targeting multiple intelligence;
The modality of delivery is attractive and engaging to students;
Affords students the ability to easily access information/content missed;
Students are able to be more participatory; and
Formative and summative assessments of students can be more effective.
Given that the benefits are many and the effort to utilise ICT has started, sustainability by educators and policymakers to this enthusiasm is critical despite present demands. It is anticipated that this panel will address the vehicles that can be employed to effectively future-proof ICT in education.
Panel Session 3
Digital Acceptance, Transformation and Acceleration for T&T – What does DATA mean?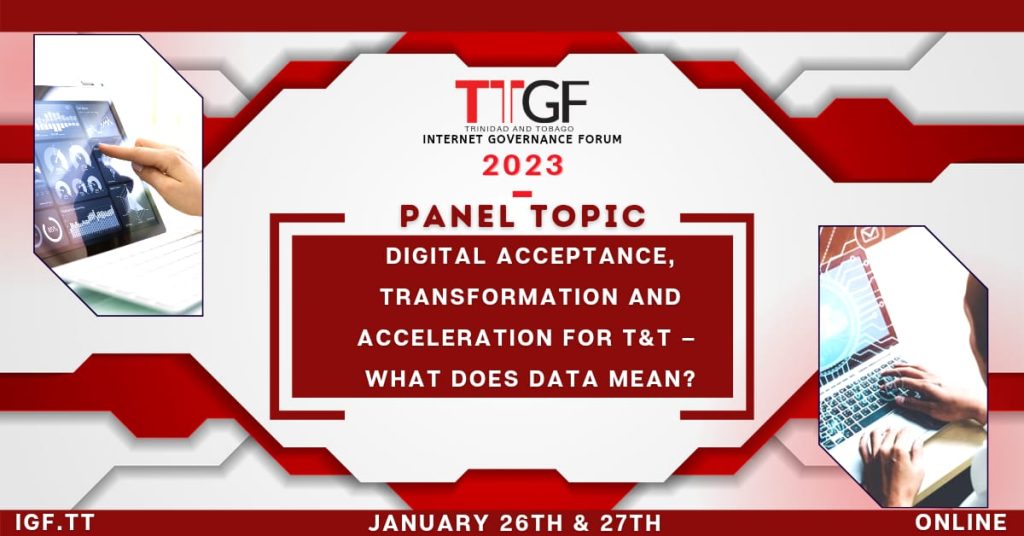 Technology is here to stay, so we might as well openly accept and implement it into our daily routines. Not only for leisure, but for our careers, businesses, and personal life commitments.
Let's unveil why are we so against the implementation of technology and change the narrative.
How do we implement Digital Transformation to serve all classes of society? Have the needs of the poor and less fortunate citizens of our country been considered by our Digital Transformation planners. How do we prepare them for this change and mindset shift.
Infrastructure for digitization is the key element for its success. What is the percentage readiness of T&T. As we have certain parts of our country without basic utilities (electricity and water); internet connectivity is fast becoming a basic utility and an absolute necessity.
What is currently provided by the country's providers?
Can they improve their reach and provide services to the entire country inclusive of offshore facilities?
Cost / Benefit
GORTT has indicated that TT is on a digital transformation journey. Citizens are asking for technology solutions to problems like traffic, government service delivery, work from home, education, and crime (including cyber security).
What does a technology-enabled future in our country look like?
The digitization of Government and Society will positively affect the lives of citizens and Economy in Trinidad and Tobago.
Definition An integrated system that uses technology to improve service delivery, generate business growth and make our country more competitive. Service innovation and diversification using current infrastructure are required to remain competitive in the global economy. Countries that have successfully implemented technology have used it as a tool for competitiveness and improved service delivery.
Panel Session 4
The A.R.T. of Cybersecurity: Attacks, Risks, and Threats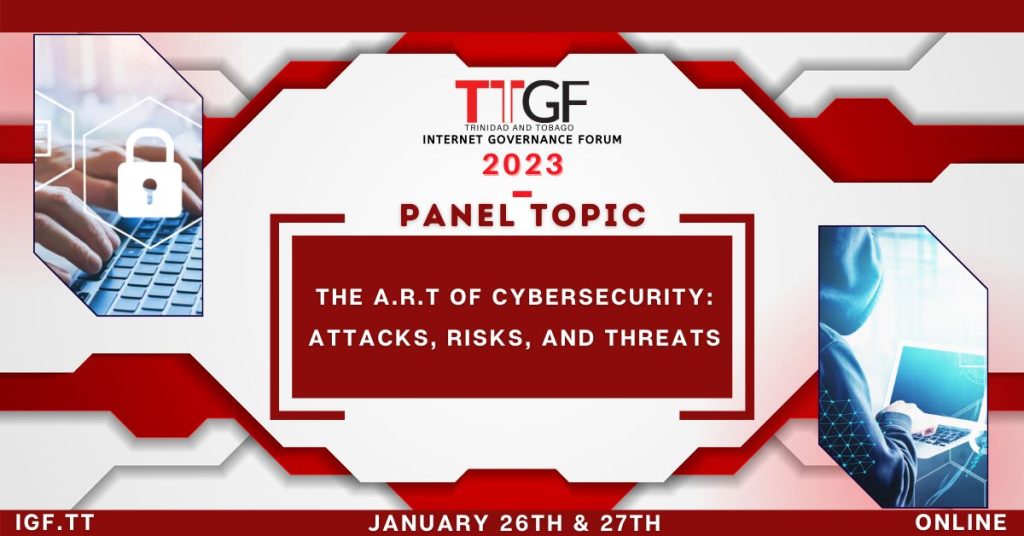 Being fully secure is not guaranteed, as new threats appear daily. However, individuals and organizations must be aware of the risks and potential threats of a cyberattack. Organizations need the requisite personnel and tools to monitor and proactively respond to and mitigate cyberattacks. Cyber-awareness is one of the key ingredients to creating a stronger and more resilient internet.