The 5th annual Trinidad and Tobago Internet Governance Forum (TTIGF) 2021 will be online on January 28 and January 29 2021!
Theme : Digitalization : The 'New Norm'
Digitalization will allow us to quickly adapt to new changes and opportunities through making the most of technology. It is the process of using digital technologies to create new or modify existing processes and culture to improve operational efficiency and deliver a better overall experience.
Digitalization is all about efficiencies! Capturing data in digital forms enables automated processes and workflow. This is a key output from digitalization and will transform the way we operate. Digitalization will help make society smarter through new insights, leaner with increased efficiencies and more secure through reduced risk and improved compliance.
True digitalization is a new way of thinking and applies to the whole business. In practice, you can start small and get some wins with things like digitizing paper forms or implementing a central document repository. A phased approach will help you demonstrate what is possible and show a tangible result that is truly transformative.
(Source : Matthew Heinrich, Digital Transformation |
5 Step Practical Roadmap For Digital Transformation, 2 December 2019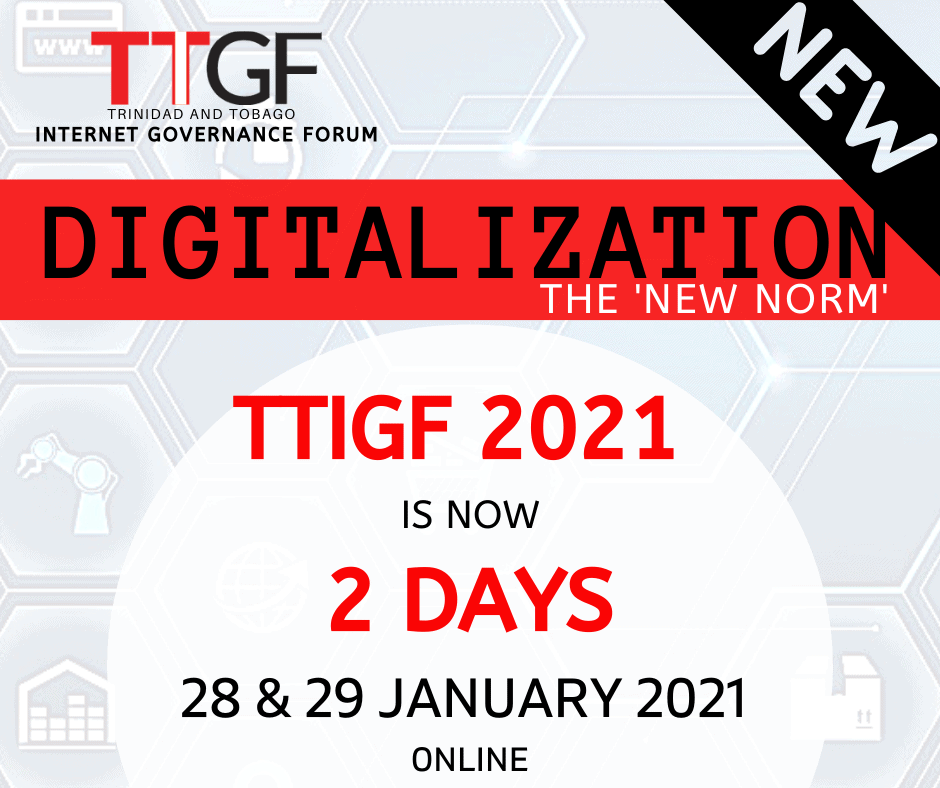 TTIGF 2021 has expanded to 2 days!
Register to join the discussion. We need to hear from YOU!
You only need to register once for access to both days.
---
About the IGF
The Internet Governance Forum (IGF) is an opportunity for multi-stakeholder dialogue on public policy issues related to key elements of Internet governance, such as the Internet's sustainability, robustness, security, stability, access and development.
The IGF was first convened in 2006 by the United Nations Secretary-General in Athens, Greece. Since then, the IGF has grown, with local and regional IGF meetings taking place all over the world to discuss issues of local relevance, as well as to provide inputs for the global IGF. Trinidad and Tobago has been involved in the IGF from inception, with locals playing major roles in its conception, as well as in the creation, facilitation and moderation of sessions.
The Trinidad and Tobago Multistakeholder Advisory Group (TTMAG) aims to continue the mandate of the United Nations Secretary-General, to:
maximize the opportunity for open, inclusive dialogue and the exchange of ideas on Internet governance (IG) related issues;

create opportunities to share best practices and experiences;

identify emerging issues and bring them to the attention of the relevant bodies and the general public;

contribute to capacity building for Internet governance;

facilitate inclusive, productive discussions on Internet-related public policy issues from a general perspective, while keeping all stakeholders involved.
The IGF is valued as a resource for networking with peers, a forum for sharing information and experiences and "a non-judgmental venue for members to openly discuss their challenges and perspectives."
Previous TTIGF events
Review past TTIGF events which includes full video coverage of the sessions, the official report and photos from the day.