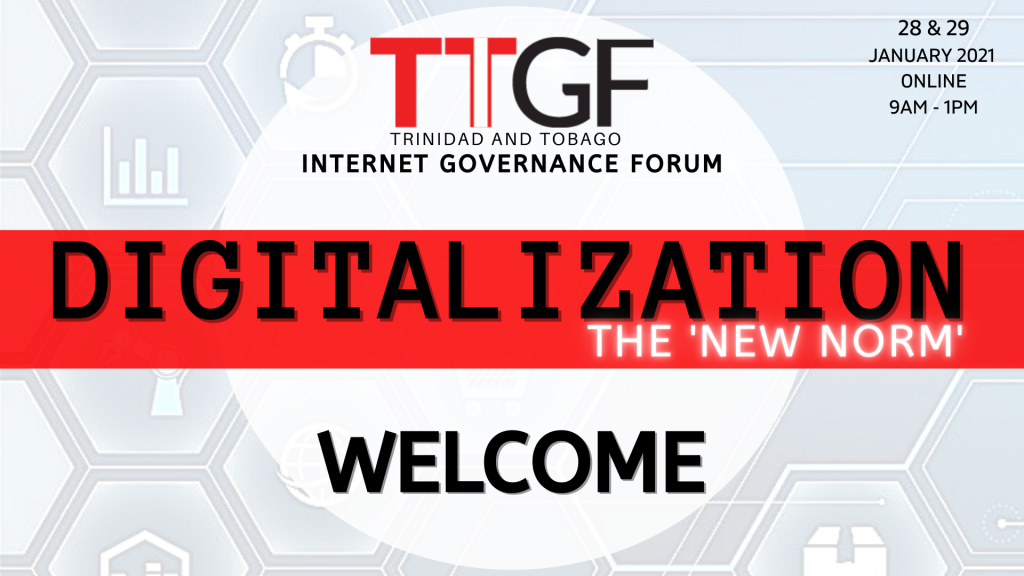 The fifth annual Trinidad and Tobago Internet Governance Forum (TTIGF) 2021 was held online on January 28 and January 29 2021. The theme of TTIGF 2021 was " Digitalization: The 'New Norm'.

TTIGF 2021 featured 4 online panel sessions, as well as an open forum over the two days.
Introductory Remarks
Introductory Video Messages
Markus Kummer, Chairman, Internet Governance Forum Support Association (IGFSA)
Anriette Esterhuysen, Chair, United Nations Internet Governance Forum's Multistakeholder Advisory Group
Senator the Honourable Allyson West,
Minister of Public Administration and Digital Transformation,
Ministry of Public Administration and Digital Transformation
---
Panel Session: DIGITALIZATION – The Multistakeholder Approach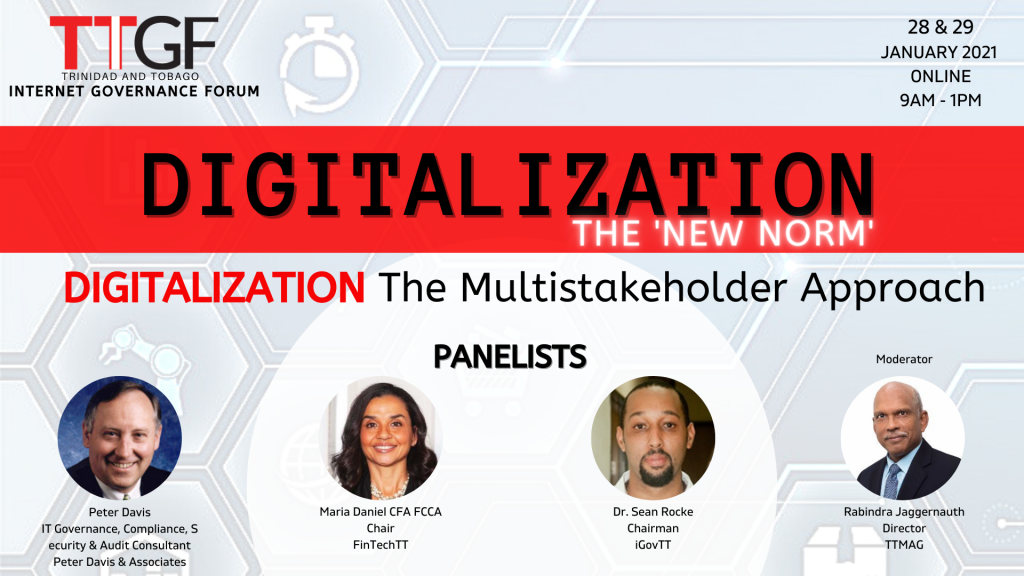 Panelists
Peter Davis, IT Governance, Compliance, Security & Audit Consultant, Peter Davis & Associates
Maria Daniel CFA FCCA, Chair, Fintech Association of Trinidad & Tobago (FinTechTT)
Dr. Sean Rocke, Chairman, iGovTT
Moderator
Rabindra Jaggernauth, Director, TTMAG
Video
---
Panel Session : Cybersecurity in the New Norm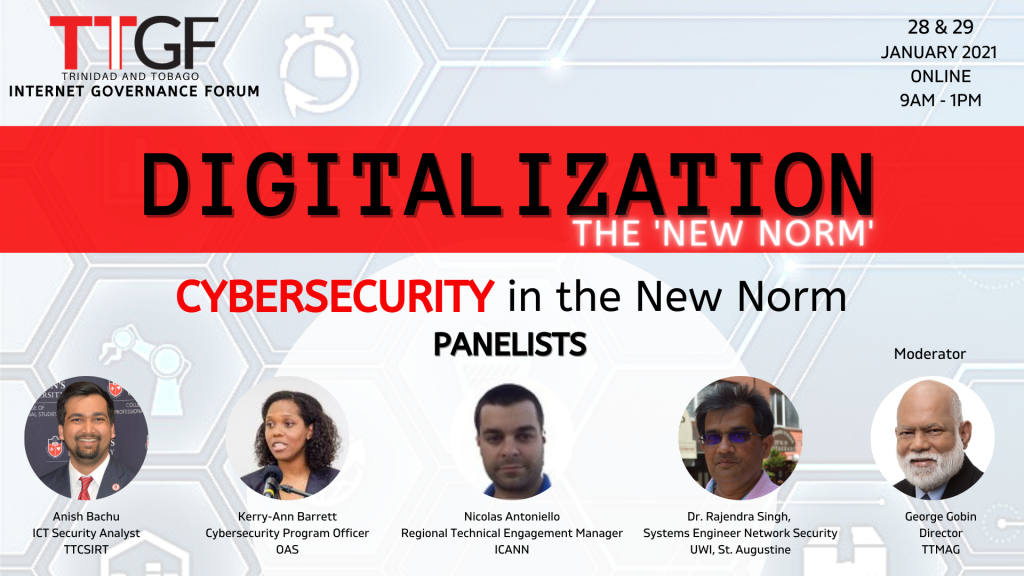 Panelists
Dr. Rajendra Singh, Systems Engineer – Network Security, UWI, St. Augustine
Kerry-Ann Barrett, Cybersecurity Program Officer, Organization of American States
Anish Bachu, ICT Security Analyst, Trinidad & Tobago Cyber Security Incident Response Team
Nicolas Antoniello, Regional Technical Engagement Manager, Internet Corporation for Assigned Names and Numbers (ICANN)
Moderator
George Gobin, Director, TTMAG
Video
---
Panel Session : Tech and Education – Revolutionising Education for a Digital World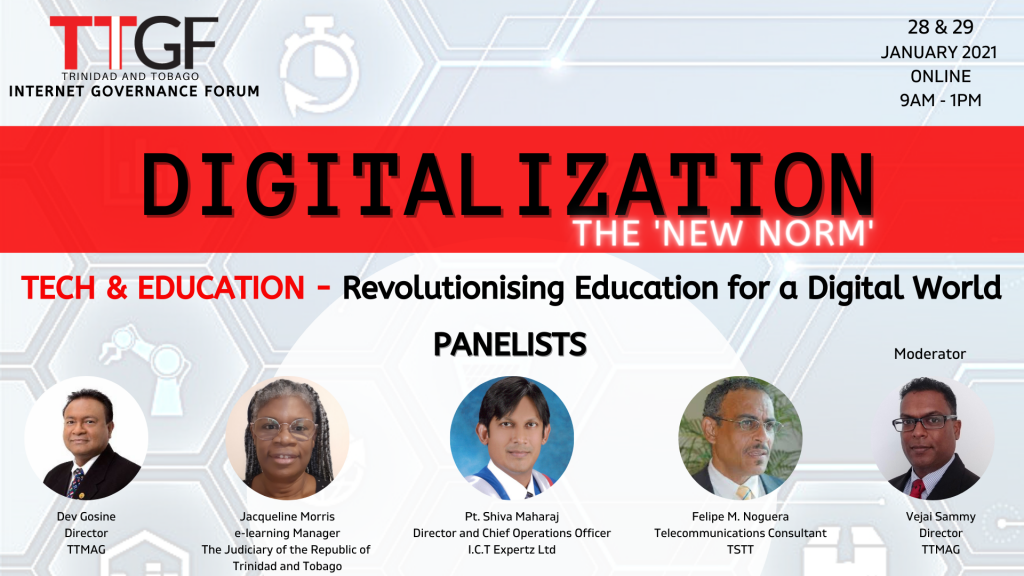 Panelists
Jacqueline Morris, E-learning Manager, The Judiciary of the Republic of Trinidad and Tobago
Dev Gosine, Director, TTMAG
Pt. Shiva Maharaj, Educational Technologist, Founder, Director and Chief Operations Officer, I.C.T. Expertz Limited
Felipe M. Noguera, Telecommunications Consultant, Telecommunications Services of Trinidad and Tobago (TSTT)
Moderator
Vejai Sammy, Director, TTMAG
Video
---
Panel Session : Digital Entrepreneurship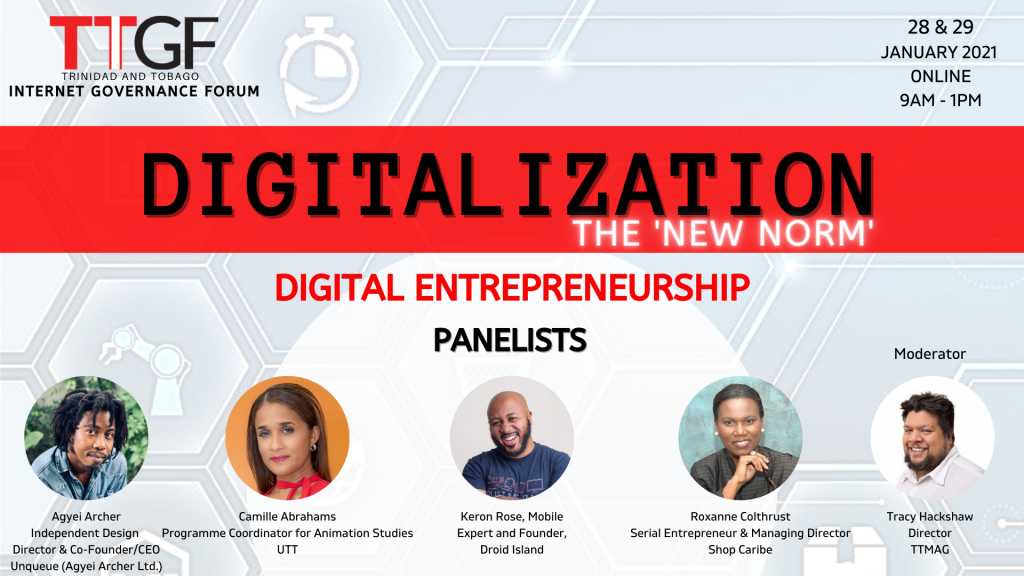 Panelists
Keron Rose, Mobile Expert, and Founder, Droid Island
Agyei Archer, Independent Design Director & Co-Founder/CEO, Unqueue (Agyei Archer Ltd.)
Camille Abrahams, Programme Coordinator for Animation Studies, University of Trinidad and Tobago.
Roxanne Colthrust, Serial Entrepreneur & Managing Director, Shop Caribe
Moderator
Tracy Hackshaw, Director, ICT & Digital Economy Strategist, TFH & Associates
Video
---
TTIGF 2021 Report
Watch the TTIGF 2021 Day 1 and TTIGF 2021 Day 2 in its entirety on YouTube and read the TTIGF 2021 report.