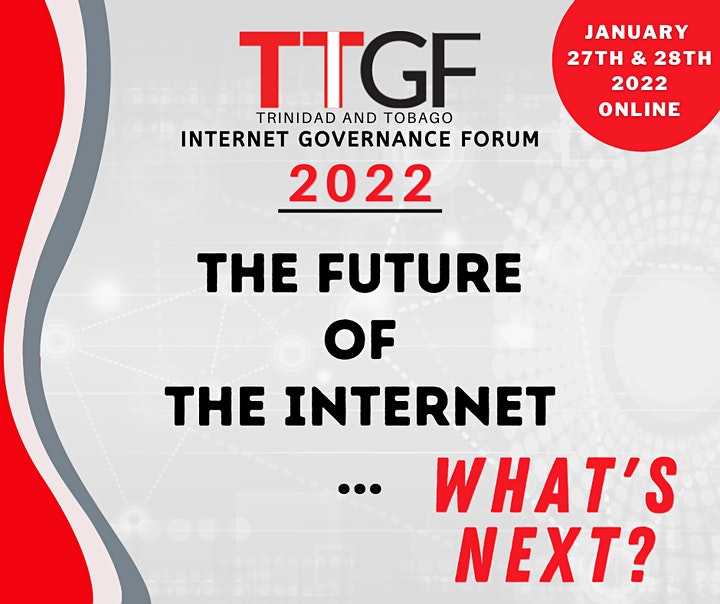 About the TTIGF
The Future of the Internet … WHAT'S NEXT?
Date: 27th & 28th January 2022.
TTIGF 2022 will be held over 2 days on Thursday 27th and Friday 28th January, 2022. The theme was selected to reflect the current climate in Trinidad and Tobago after being forced into a digital age. Adapting was necessary, but thriving is the goal. Join the discussions with experts from the different stakeholder groups. This collective brainstorm about the Future of the Internet in Trinidad & Tobago is more important than ever in our evolving society.
Academic Community
Technical Community/ ICT Civil Society
Civil Society
Commercial / Business
Government
ALL INTERNET USERS … your participation and your voice are vital in this conversation.
Register to join the discussion. We need to hear from YOU!
You only need to register once for access to all the days.
TTIGF 2022 Day 1:
Introductory Keynote Addresses
Vint Cerf, VP & Chief Internet Evangelist, Google Incorporate
Anriette Esterhuysen, Outgoing Chair, United Nations Internet Governance Forum Multistakeholder Advisory Group(UN-IGF MAG)
Senator the Honourable Hassel Bacchus, Minister of Digital Transformation, Ministry of Digital Transformation
Day 1 Panel Session 1: Building a Digitally Competent Society
Moderator:
Sanjay Bahadoorsingh, Director, TTMAG
Panelists: ​​
Pundit Shiva Maharaj, Director and Chief Operations Officer, I.C.T Expertz Ltd
Dr Roland Birbal, Assistant Professor, Centre for Education Programmes, UTT
Swasti Maharaj, Student, Lakshmi Girls Hindu College
Mr and Mrs Bhola, Internet User Parents
Darren Mohammed, Senior Solution Specialist Manager – Caribbean Region, Microsoft Country Representative, Microsoft Trinidad & Tobago
Day 1 Panel Session 2: Enhancing Internet Research, Data and Measurement for Development
Moderator:
Nigel Cassimire, Telecommunications Specialist, Caribbean Telecommunications Union (CTU)
Panelists:
Patrick Hosein, Director, TTMAG
Niran Beharry, Chairperson, ISOC-TT
Kim Mallalieu, Senior Lecturer, Department of Electrical & Computer Engineering, UWI
Annie Baldeo, Executive Officer – Policy, Planning and Economics, TATT
Day 2 Panel Session 1: The Internet and the Law
Moderator:
Rabindra Danny Jaggernauth, Director, TTMAG
Panelists:
Rishi Maharaj, Principal Consultant Privacy Advisory Services, EquiGov Institute
Grace Lindo, Attorney at Law and Partner, Carter Lindo Attorneys-at-Law
Tira Greene, Legal, Policy and Legislative Drafting Consultant, Tira Greene Consultancy
Mukta Balroop, In-house Legal Counsel, Financial Institution
Day 2 Panel Session 2: Trinidad and Tobago's Digital Transformation Journey – What's Next?
Moderator:
Ajmal Nazir, Director, TTMAG
Panelists:
L. Anthony Watkins, CEO & Principal Consultant, ODYSSEY CONSULTinc Limited
Kandyss Trancoso, Founder, The FinRoute
Master Christie-Anne Morris-Alleyne, Court Executive Administrator, Judiciary of Trinidad and Tobago
Feature Address
Vint Cerf, VP & Chief Internet Evangelist, Google
Closing Address
Tracy Hackshaw, Vice-Chair, TTMAG
TTIGF 2022 Report