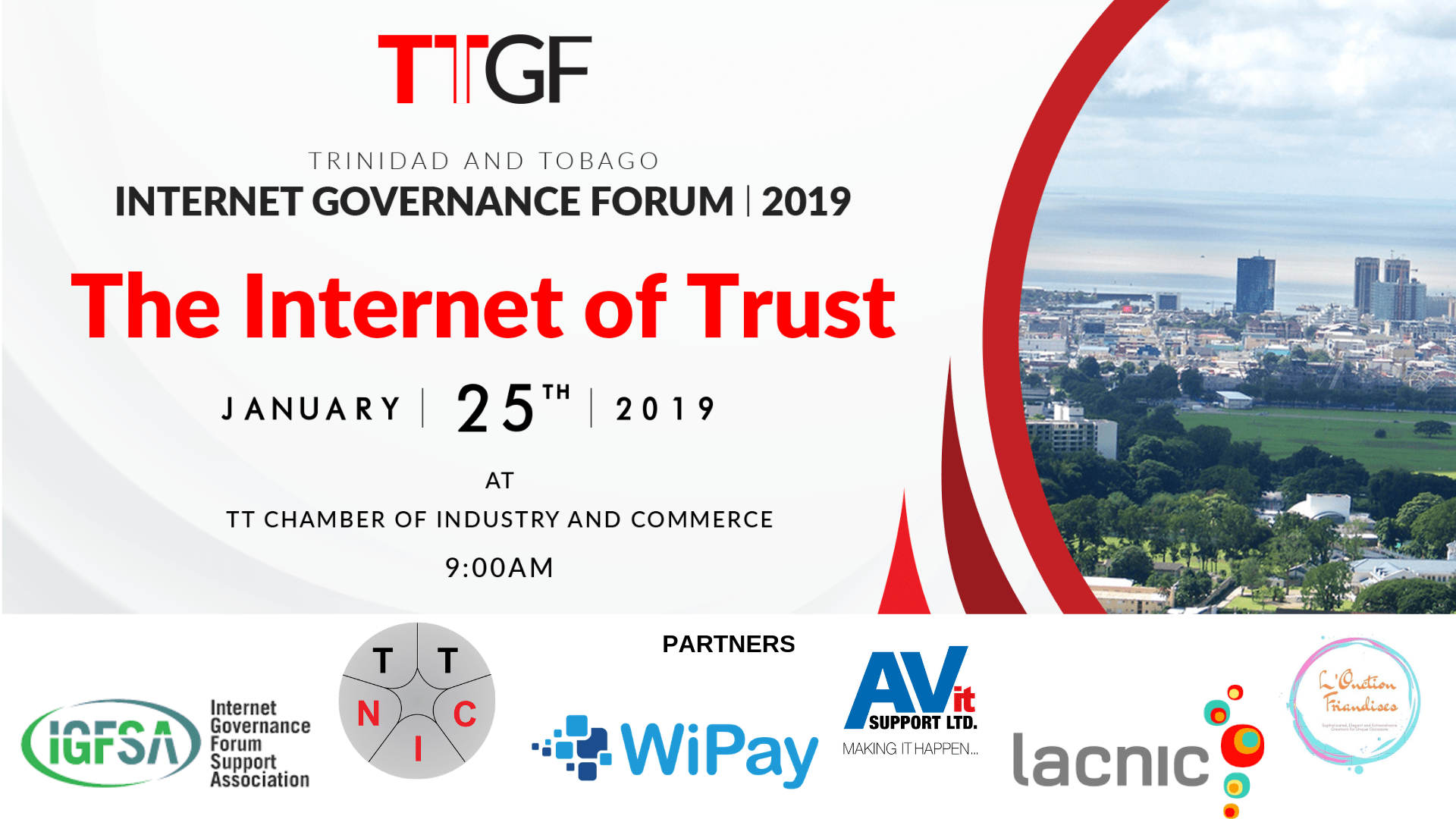 The third annual Trinidad and Tobago Internet Governance Forum (TTIGF) took place on January 25th, 2019, from 9AM to 5 PM at the Trinidad and Tobago Chamber of Industry and Commerce, Westmoorings, Trinidad and Tobago. The theme of TTIGF2019 was "The Internet of Trust" in keeping with the International Internet Governance Forum 2018.
The TTIGF 2019 featured three panel sessions and an open forum.
Panel Session 1: Caribbean Data Protection Regulations (CDPR)
George Gobin, Director, TTMAG (Moderator)
Ms. Vashti Maharaj, Head, Legal Services – Ministry of the Attorney General and Legal Affairs
Mr. Darren Mohammed, Corporate Business Manager, Caribbean/Country Representative –  Microsoft Trinidad & Tobago
Dr. Yufei Wu, Associate Professor and Coordinator – Caribbean Institute of Cybersecurity
Mr. Bartlett Morgan, Associate Attorney at Law – Lex Caribbean
Panel Session 2: Cultural Factors in the Caribbean Affecting Trust & Privacy for Digital Security
Jacqueline Morris, Director, TTMAG (Moderator)
Mr. Randall De Freitas – Manager, Technology Risk, Ernst & Young Services Limited
Mr. Anselm Charles – ICT Manager, Caribbean Community Implementation Agency for Crime and Security
Mr. Michael Walcott – Senior Manager, Operational Risk, Republic Bank Limited
Panel Session 3: Using Technology to Increase Trust in Public Institutions
Glenn McKnight, Secretariat, the North American Regional At-Large Organization (NARALO) (Moderator)
Charles Bobb-Semple – Deputy CEO, The National Information and Communication Technology Company Limited (iGovtt)
Master Christie-Anne Morris-Alleyne – Court Executive Administrator, the Judiciary of the Republic of Trinidad and Tobago
Rishi Maharaj – Executive Director, EquiGov Institute
You can watch the TTIGF 2019 event on YouTube and can read the TTIGF 2019 Meeting Report.