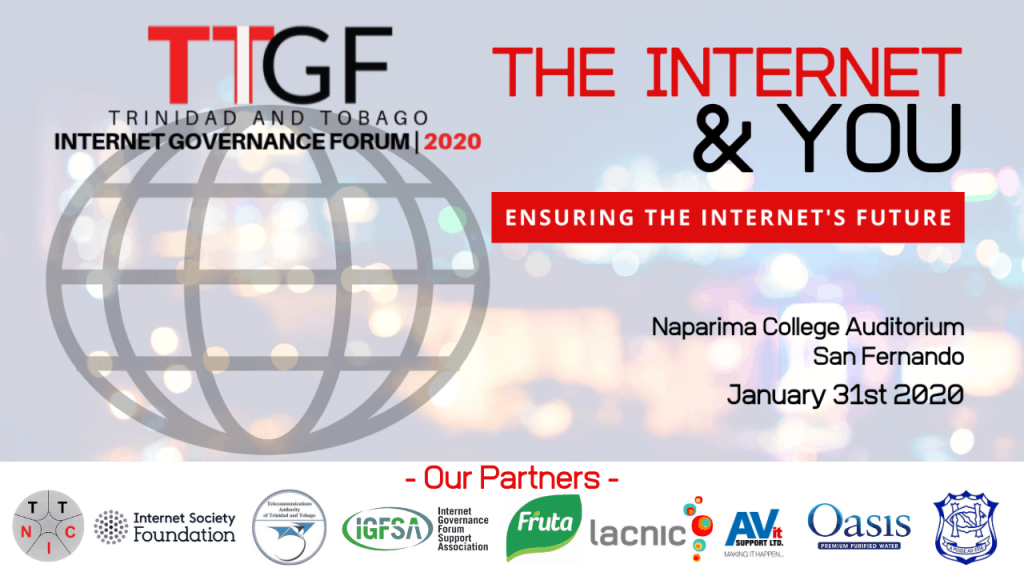 The fourth annual Trinidad and Tobago Internet Governance Forum (TTIGF) was on Friday January 31 2020 at the Naparima College Auditorium, San Fernando from 9am to 5pm. The theme of TTIGF2020 was "The Internet & YOU: Ensuring the Internet's future".
TTIGF 2020 featured two panel sessions, a youth-led Collaborative Exchange on "The Future of the Internet" and an Open Forum.
Introductory Remarks
Vint Cerf, Chief Internet Evangelist, Google
Anriette Esterhuysen, Chair, United Nations Internet Governance Forum's Multistakeholder Advisory Group
Senator the Honourable Allyson West, Minister of Public Administration, Ministry of Public Administration
Panel Session : Fake News & its Impact on You
Shernon Osepa, Manager, Regional Affairs for Latin America & The Caribbean Bureau, Internet Society (ISOC)
Mark Lyndersay, Editor, TechNewsTT and Opinion Leader Columnist, Newsday
Daniel Hernandez, Head, Cyber & Social Media Unit, Trinidad and Tobago Police Service
Asha Javeed, Senior Multimedia Investigative Journalist, Caribbean Communications Network
Anita Sohan, Director, TTMAG (Moderator)
Youth-Led Collaborative Exchange Topics
The GOOD, the BAD and the POTENTIAL of Online Communities
Big Tech
Internet Pollution
Encrypting Data
I.T for Clean Energy
Social Media and You
Panel Session : Data Hosting: Locally or Internationally?
Ian C. Galt, General Manager – Enterprise Services, Telecommunications Services of Trinidad & Tobago Limited
Darren Mohammed, Corporate Business Manager for the Caribbean and Country Representative, Microsoft Trinidad
Keenan Singh, Chief Executive Officer, Air Link Networks
George Gobin, Director, TTMAG (moderator)
Watch the TTIGF 2020 event on YouTube and can read the
TTIGF 2020 report.